Nursery News - December 2016
It's been a little while since our last post and a lot has happened since then. In October we celebrated our 12 year anniversary - with cake and candles of course! Last month we were delighted to be shortlisted in the prestigous good web awards and Isobel and Emily enjoyed a fun evening in the big smoke rubbing shoulders with the other finalists.
The team celebrating 12 years trading

Whoop whoop!

Getting in the festive spirit for the RHS Christmas Fair
We were also at the new London Urban Show with our citrus trees and some funky new hoyas. It was quite a different show from the traditional RHS london shows and it was great to see such a fab turnout from the London masses.
We've lots of lovely new gift ideas for Christmas

From cocktail sets to elegant orchids

Our popular chinottos are one of the hardier citrus trees
In the meantime, it's been a chilly week but we've been busy at the nursery launching our new range for Christmas. We've got some funky new gifts sets, gorgeous lavender trees and some lovely new festive planters now in. Browse our full range of christmas gifts here.
Extended opening hours
At this busy time of year we'll be working longer behind the scenes to make sure all your gifts get there in time for Crimble but we'll also be extending our customer service line hours. We'll be answering calls between 8am and 6pm on a weekday and between 9am and midday on Saturday mornings too throughout December.
Nursery News - October 2016
A big welcome to our newest team member!


Michelle has already been with us for 3 months and has been busy learning the ropes in the nursery itself. An enthusiastic gardener and plant lover, we're delighted that she has now finished her initial training period and will be your first port of call on our customer service line.


Michelle: Our new face on the phone;
As our regular customers will know, we are always adding new gifts to our selections and this month is no exception.
Now the nights are drawing in we've introduced some new and really stunning larger houseplants and orchids and we're welcoming back some Autumn favourites.
Nursery News - August 2016
Phew- ee what a scorcher!

We've had some gorgeous weather this month and our plants have been loving the sunshine.
We've added lots of new plants to our summer range including some striking Starclusters, Balloon Flowers and paniculata Hydrangeas. But our big news this month is we are working on the launch of our super spangling brand new website.

This will be even faster on mobiles and will have lots of whizzy features like paypal payments, automated address look up, improved search functions and a fresher, cleaner design. Watch this space for more news coming soon....
New 'Limelight' Hydrangeas

Balloon Flowers are already proving popular;

Our whizzy new look website coming later this year
Nursery News - July 2016
We helped raised over £2000 for nursing and caring charities this month!

We were delighted to be asked to take part in the National Garden Scheme this year and we opened as part of the scheme for the first time on Saturday 23rd July alongside 2 other local cottage gardens. We are very much a working nursery so it was no small task to get the nursery up to scratch for visitors but it was such a fanatasic event to be part of. It was a sweltering day under glass but visitors were very kind and seemed to enjoy the 'behind the scenes' experience.
Chris and Isobel welcoming visitors to our NGS open day

Alan giving a tour of the rainwater reservoir

We were delighted with another RHS Silver Medal at Hampton Court
Thank you so much to everyone who came along. Across the 3 sites we had over 300 visitors. Visitors were also able to buy plants and organic veg and flowers from the nursery and proceeds from this, as well as ticket and tea and cake sales brought the total up to over £2000 for the NGS. Thanks to David Croft and Jackie Pateman who opened alongside us and the team from Macmillan Cancer Support on the teas. All monies raised will be distributed by the scheme across a wide range of worthy local and national nursing and caring charities. In fact the day proved so popular we might just have to do it again!
This was our last open day of the year but of course there are hundreds of private and public gardens that take part in the scheme so it is well worth having a look at what is happening in your area at www.ngs.org.uk
Announcing another Silver at RHS Hampton Court
We had a fabulous time selling Citrus trees in the Cook and Grow Theatre at Hampton Court this year and were delighted with our Silver Medal.
For more information about our next shows and open days click here or drop us a line via the contact us page.
Nursery News - May 2016
Sunshine at last !
We're just back from a great week at Malvern RHS Spring Festival and it really does feel like Summer is on it's way.
We will be at Blackheath Farmers market this Saturday as part of the 'RHS on tour' series and then our next big event will be our Nusery Open Day on the 28th May. We are not normally open to the public so this is a great opportunity to see behind the scenes at our working nursery and of course to browse our huge range of flowering and fruiting plants and citrus trees.
We will be open from 1pm-5pm offering guided tours of the nursery, tea and cakes by the reservoir and of course lots of gorgeous plants for sale.
The sun shone and our citrus trees went down a treat

Another prestigous Silver Medal at the Malvern RHS Spring Festival

Local school children getting their hands dirty
We will be doing 2 open days this summer but this first one is in conjuction with Newick Festival so there are lots of other exciting things happening in the village. There will be food fair on the village green from 11am to 3pm and our local horticultural society will be doing a guided walk from the Village through the nearby woods to the nursery so there is lots to get involved in. For more information please do visit our open days pageor drop us a line via the contact us page.
(And see www.newickfestival.org for more details about more family fun happening in and around the village over the bank holiday weekend).
Now we are well into the growing season we've also been helping out with school gardening projects in the local area. It was great to see these pics of the kids getting their hands dirty recently. If you have a local project that needs some plants please do tell us about it and we will help if we can.
NEXT SHOW: Blackheath Farmers Market Sunday 15th May
For more information about our upcoming shows Click here
Nursery News - March 2016
After a long, long damp Winter, Spring at last is in the air!
We've had quite a busy start to the year already with an early Mother's Day but now the clocks have changed and the weather is warming up it feels like Spring has really arrived in the last few days.
We're looking forward to being out on the road again this year and it was nice to start things off this month with a guest slot at Wimbledon Farmers Market as part of the 'RHS on tour' series.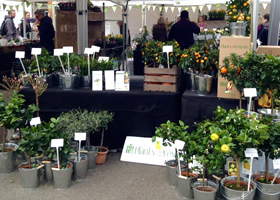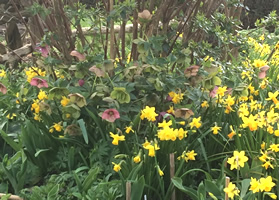 A bustling Wimbledon Farmers Market; an inspirational trip to Great Dixter Garden ahead of our first NGS opening
We're also excited about 2 new ventures here at the nursery. We'll be opening the nursery this year on the 28th May as part of the local Newick Festival. This year promises to bigger than ever before with a new Food Fair on the Village Green in the morning followed by tours of the Plants4Presents nursery in the afternoon and the chance to buy lots of plants, trees and organic veg from our pop up shop.
(See www.newickfestival.org for more details about more family fun happening in and around the village over the bank holiday weekend).
We will also be opening the nursery as part of the National Garden Scheme this year. This fantastic scheme raises millions for nursing charities each year and we're really looking forward to being part of such a great and well established tradition. We will be offering tours of the greenhouses alongside 2 other local partner gardens and all monies raised from ticket sales will be going to charity. To read more about what to expect as part of the 'Fletching Secret Gardens and Glasshouses' or to find out about other gardens opening in 2016 as part of the scheme visit www.ngs.org.uk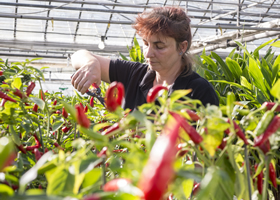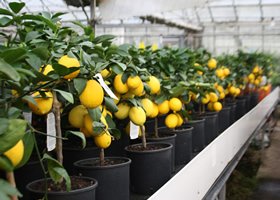 Our open days on the 28th May and the 23rd July are a unique opportunity to see behind the scenes at the nursery.
We've become known now for our range of more unusual and plants and we're always on the lookout for new or under-rated plants. We've had some great press coverage about our Yuzu trees in recent weeks and in that vein we're delighted to launch a new 'Fruit Lovers Collection'.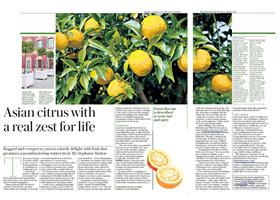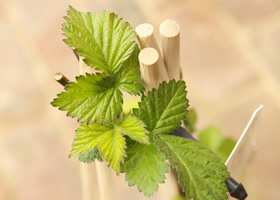 Our Yuzu Trees in the Telegraph; New Season Japanese Wineberries as part of our NEW 'Fruit Lovers Collection'
Containing a ruby gooseberry, a thornless blackberry and a japanese wineberry these heavy cropping varieties are perfect for those who like something a little bit different and they are all tasty varieties which we've trialled ourselves. Of course as the days get longer everything is now starting to burst back into life and our popular pear, apple, peach and blueberry bushes are all looking fantastic for Spring deliveries.
NEXT SHOW: RHS Malvern Spring Festival 5th-8th May
For more information about our upcoming shows and open days Click here
Nursery News - January 2016
Wishing all our wonderful customers a very Happy New Year and a happy, healthy and plant filled 2016!
2015 highlights
2015 was a fantastic year for Plants4Presents and our busiest year yet. We had a great time out on the road at various events and shows up and down the country and we were delighted to receive recognition not just from the customers who use our service but from the powers that be in horticulture and our local business community.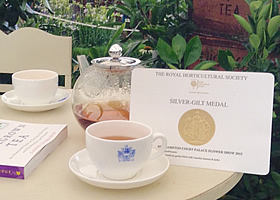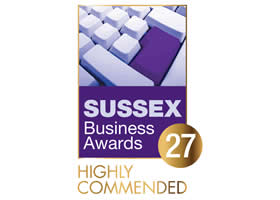 We were delighted with our Silver-Gilt Medal for our 'Grow Your Own Tea' display at Hampton Court and also to be awarded 'Highly Commended' in the 'Small Business of the Year' category at the Sussex Business Awards2015
We've seen both more customers finding us via horticultural shows and events and more customers returning for gifts year after year, meaning 2015 was a record breaker for us. We saw record numbers of plants bought for Mother's Day and for Christmas and more than 20,000 plants delivered to homes up and down the country in 2015.
We've got lots of plans for new plant gifts and improvements to the website and we'll be out on the road again this year at some of our favourite horticultural shows.
*Don't miss our popular nursery tours in May and in July for the National Garden Scheme.*
SHOWS SCHEDULE FOR 2016
RHS on Tour Wimbledon Farmers Market 12th March
RHS Malvern Spring Festival 5th-8th May
RHS on Tour - Blackheath Farmers Market 15th May
Nursery Open Day in assocation with Newick Festival 28th May
RHS Hampton Court Palace Flower Show – GYO citrus – 5-10th July
Nursery Open Day raising funds for the National Garden Scheme 23rd July
RHS Wisley Flower Show 6-11 September
For more information about our upcoming shows and open days Click here