We're a small team based in rural Sussex who care very much about our plants and what we do.
If you have a question about our plants or are looking for something specific, please do give us a call, we will always do our best to help.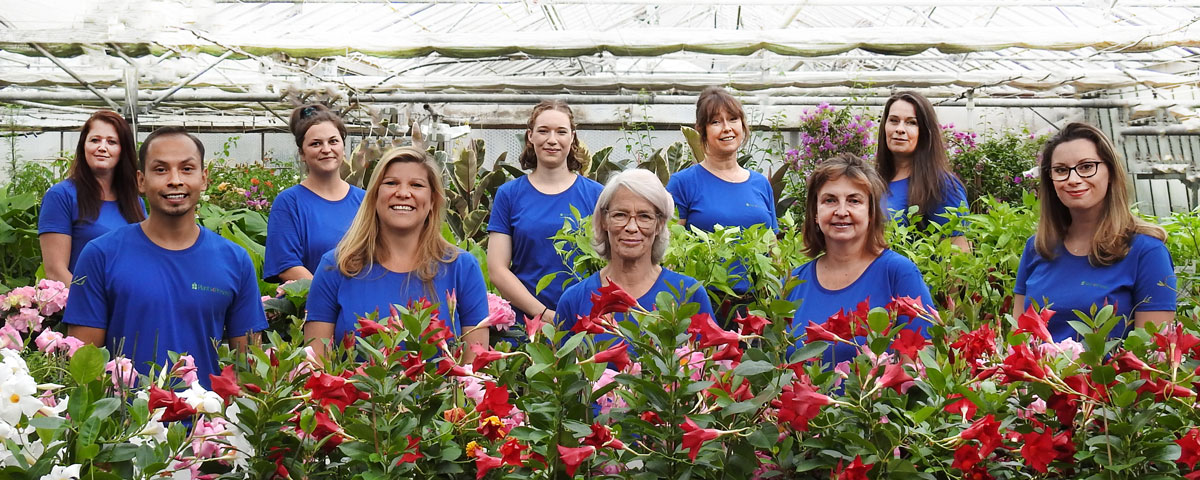 Our Fabulous Team of Plant Lovers - Libby, Jose, Laura, Emily, Sophie, Isobel, Sarah, Fiona, Michelle and Hannah.
We update the website constantly so that what you see is what you get and all the photographs are taken in house of plants actually stocked here at the Nursery. The customer service line is also answered from the office on site so we are perfectly placed to answer even the most specific questions about all our plants.
Launched in 2004, Plants4Presents is a family business run by mother and daughter team Isobel and Emily Rae.
We started Plants4Presents because we wanted to provide a service that we would use ourselves, interesting, quality plants delivered in excellent condition.
Follow us on Instagram for plant care advice, potting shed updates and behind the scenes photos and videos from the Plants4presents nursery
Our Service
Over the years our range of plants has steadily expanded and in 2006 we moved to our current Nursery in beautiful Sussex. Our seasonal gift collections now include over 100 different fruiting or flowering plants at any one time and we change the selections on a weekly basis to reflect what is looking best and in season. As well as an extensive range of citrus trees and exotic fruit trees, we offer a popular 'grow your own curry' range, and of course lots of flowering plants that you simply won't find in the garden centre.
Whichever plant you choose, you can rest assured that we will take care of everything for you, from handwriting your greeting card, to delivering in perfect condition on the day you specify. Without our customers we would be nothing and we're delighted to see so many customers returning year after year and to receive excellent feedback via Trustpilot.
Contacting Us by Phone
Our normal office hours are 8am to 5pm but we are often available outside these hours on 01825 721162 (or on 0845 226 8026). If we are unable to take your call, just leave a message and we will get back to you.
Contacting Us by Email
Our email address is shown below. Or you can use the form on the Contact us page.

Company Registration Details
Plants4Presents is a trading name of our company, Free Spirits Ltd.
The company was registered in the UK in 2003
Registration Number 5003969
Vat Registration Number 826 8892 74
Plants4Presents is at the following address :
Plants4Presents
The Glasshouses
Fletching Common
Newick
Lewes
East Sussex
BN8 4JJ
(Trade visitors by appointment only please - we are not open to the public unfortunately)
About our Nursery
All our plants are cared for on site at our Sussex nursery before being carefully packed and delivered to homes around the country. The glasshouses were originally a cut flower nursery but over the years we have adapted it to be the perfect site for our plants. We've introduced a rainwater harvesting system and biomass boiler to provide an environmentally friendly heat source for our more tropical plants and we're constantly striving to reduce our impact on the environment further.
EU Funding
We'd like to acknowledge our sincere thanks for the EU funding we received for the new website and e-commerce system at Plants4Presents. Our grant was obtained from the European Agricultural Fund for Rural Development via the LEADER scheme (part of the Rural Development Programme for England) . In our part of the country LEADER grants are managed by the Central Sussex Local Action Group. We are very grateful for the support they have given to our growing rural business.