Caring for the Environment
As a family we strongly believe in working with the natural environment rather than against it. We love the great outdoors and are passionate about preserving the British countryside for future generations.

As a business we are always looking for ways to reduce our impact on the environment and to recycle and reuse natural resources.
Sustainability
We moved to our current nursery in 2006 and we are proud of the the steps we have taken so far to reduce our environmental footprint. As soon as we moved in we installed thermal screens to minimise heat loss. In 2010 with the help of an EU grant we installed rainwater harvesting at the nursery and in January 2014 we installed a more sustainable biomass heating system to replace the old oil fired heaters. On site at the nursery we also grow pesticide free flowers and we rent out some of our greenhouse space for growing organic vegetables.
Packaging
We have always used recycled paper in the office for our care instructions and greeting cards, for any promotional material, leaflets and envelopes. From the beginning we have choosen packaging that is based on recyclable paper and cardboard rather than plastics or cellophane and we are constantly looking at ways of improving our sustainability.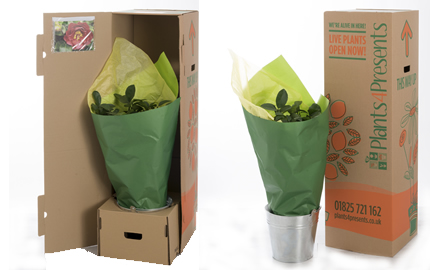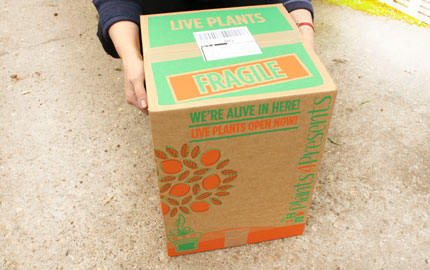 Our current boxes are made from 80% recycled material and all of our tissues and kraft papers are made using paper from sustainable sources and can easily be recycled in kerbside recycling. We introduced a new smaller box size last year which has helped to reduce the amount of cardboard we use and the kraft paper 'padding' we use to protect our plants in transit is made from 100% recycled paper.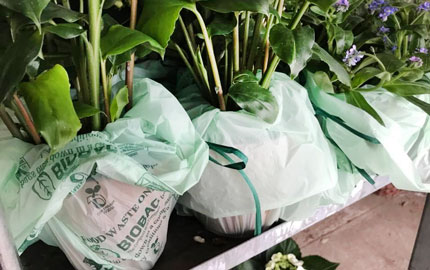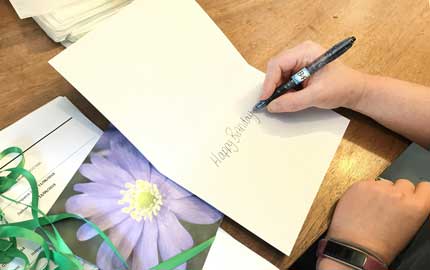 In 2018 we also replaced the plastic bags we used to hold in soil and moisture in transit with new biodegradable and compostable starch bags and the plastic seals on our gift wrap with paper alternatives. We've always used natural raffia to tie these bags, but this year we have even looked again at our processes in house and we now write our greeting cards with these rather nifty pens made from recycled water bottles. Our greeting cards are currently in a oxo biodegradable plastic document wallet but we are looking again at other alternatives for these moving forward.
New Plastic Free Range
Plastic is still widely used in the horticultural industry as a practical material to grow and transport living plants and as we source many of our plants from nurseries that use plastic pots most of our range can't be guaranteed entirely plastic free. However there are a number of plants that we either grow here or repot on site at the nursery and these plants are now being repotted into biodegradable 'Vi-pots' rather than into new plastic. These attractive pots are made from by-products of the agricultural industry and include a mixture of rice husks, corn and bamboo waste compressed into a lightweight waterproof material. When intact they have a life cycle of at least 5 years but once they have been used they can be smashed (to allow moisture to get through the outer seal) and then either disposed of in normal household waste or composted as food waste and in either case they will break down completely into natural compost over a period of 9-18months.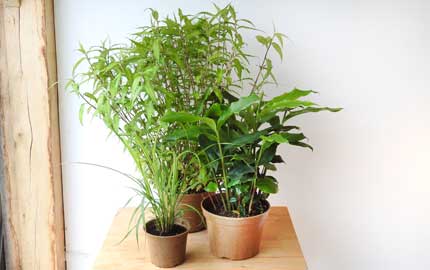 For this range of plants we have also made a couple of changes to our packaging process to eliminate the last trickier pieces of plastic in our packaging. For these plants we have substituted the oxo biodegradable plastic document wallet with a reusable ribbon and we have also left out the plant tonic for which we don't yet have a suitable non-plastic alternative. Over time we hope to add more plants to these completely 'Plastic Free Range' but in the meantime please do be assured we are doing absolute everything we can to reduce plastic waste across our full range of gifts as well.
Waste Management
We try to take a holistic approach to waste management and recycling. We reuse everything that we can including plastic pots, water and office paper and what we can't reuse, we recycle. All discarded office paper, cardboard packaging and plastic pots and plant trays are collected from site for recycling. We compost all food and plant waste to make our own compost for cut flower production.
Organic Growing methods
The soil association doesn't recognise any potted plants as organic however we do practice organic principles in everything we do. We only use organic plant based insecticides and use natural predators (and our trusty farm cats!) to manage pests within the nursery. We use peat free compost in all our own re-potting and use a mixture of organic and non-organic feeds to keep our plants strong and healthy.