November 2021
After months of planning our new plant area is finally under way!
Over the last couple of years we've seen a huge rise in demand for our delivery service and we've started running out of space at the nursery so we're absolutely delighted to have the diggers on site this week. This is part of the long term renovation of our elderly glasshouses and will see a large new plant storage area for our hardier garden plants complete with new potting area and irrigation systems. Due to be finished by the 1st December in the nick of time for Christmas our littlest member of the team is in her element keeping the diggers on track!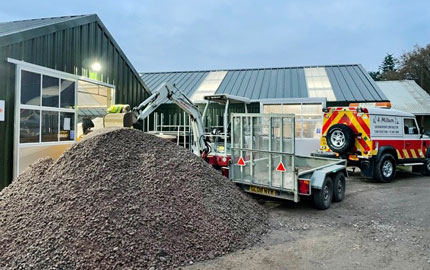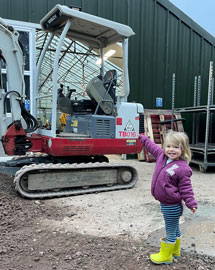 Who doesn't love a digger!
We're still recruiting for Christmas
Looking for full time temporary work in the run up to Christmas and live within easy travelling distance of BN8 4JJ? Find out more about joining our team
October 2021
A warm welcome to our newest recruit Laura as we celebrate 17 years of Plants4Presents!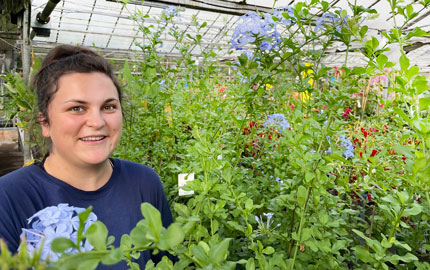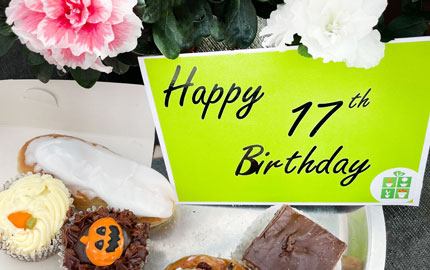 Laura joins us from a strong background in forestry and plant health and we're delighted to have her on board. She loves her houseplants and is already getting stuck in at the nursery.
Laura brings our permanent team of plant lovers back up to 11 full and part time staff and long way from where Isobel and Emily started back in October 2004. The last 2 years have been challenging but our busiest years yet and we're delighted to see so much demand for all things horticultural. As we celebrate our 17 years trading this month (with cake obviously!) we're busy investing in the nursery and expanding our plant growing areas ready for Christmas and 2022 beyond. Thanks so much to all those who have been part of our journey so far and here's to the next 17!
A tribute to our late Chairman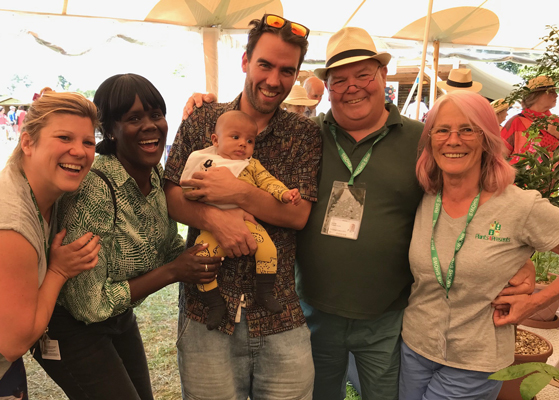 Sadly in October last year we lost Alan suddenly. We miss him terribly as a husband, as a Dad and as a wonderful Grandad, but we also miss his endless enthusiasm and support in his role as our long suffering Chairman. Thank you Dad
June 2021
At long last the weather is warming up and after a tricky year it's great to be finally catching up at the nursery. We've been lucky enough to be incredibly busy throughout the pandemic and have expanded our team and our despatch areas to keep up with demand.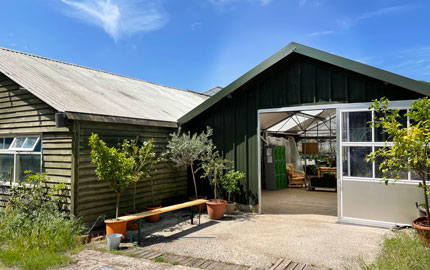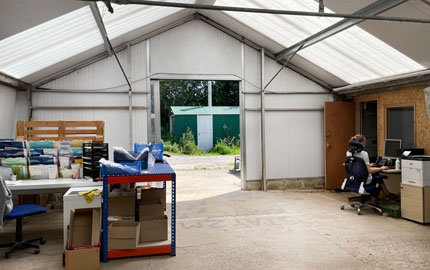 Now things are starting to settle down we're pleased to be able to extend our cut off for next day delivery to 3pm and we intend to extend this back to 4pm again as soon as we're able.
We're also delighted to be able to offer personalised pots again. Whether you want to say 'Happy Father's Day!' or commemorate a special anniversary you can now add up to 20 characters of vinyl lettering to a Giant or 20cm pail and up to 15 characters on the18cm pail. This is a great way to make your gift extra special but please do allow us an extra day for delivery as it takes a little while for us to customise each pot.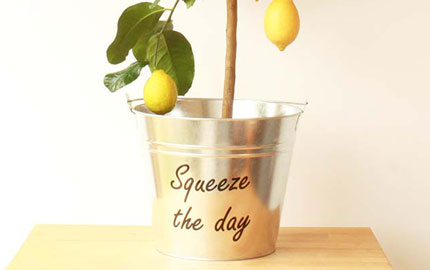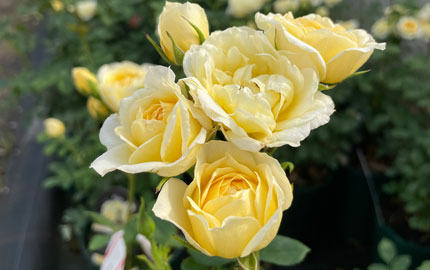 June brings an abundance of colour to the nursery. We've heaps to choose from for indoors and out and lots of fabulous new additions for 2021 too Shop recommended
Snow update - 9th February 2021
We haven't been as badly affected here in Sussex as some parts of the country, we've got just a dusting of snow today and all our plants are still being despatched on time. We are aware that some areas of Suffolk, Norfolk and Kent do have heavy snowfall and our couriers are having difficulty getting through in some cases. If your delivery is affected you'll see the updates coming through directly from DPD our Royal Mail to your email address but if you need any help on tracking a parcel please do give us a call on 01825 721162 and we'll always do our best to help.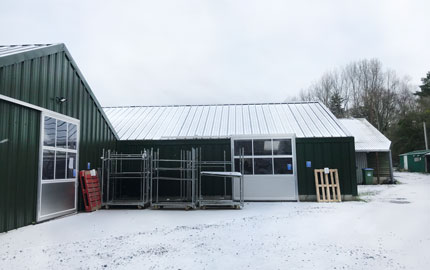 We're recruiting!... are you passionate about plants and do you have office-based customer service experience? We're looking for a fabulous part-time customer service assistant to join our growing team. Find out more
We had the busiest year ever last year and have taken on some fantastic new staff to help keep up with demand. We know it's been a tough time for so many of us, but we've stocked up with lots of cheerful spring flowering plants. Our team here are working hard with our couriers and royal mail staff to ensure you receive the same great service day in, day out.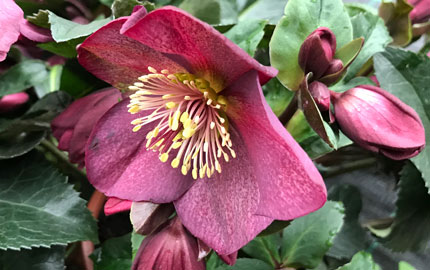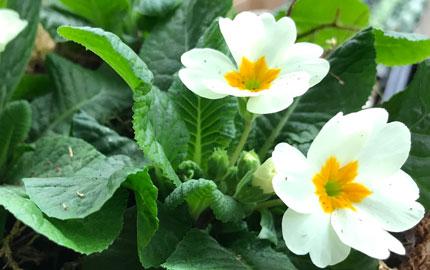 We've lots of gorgeous new season plants to bring a bit of cheer in these difficult times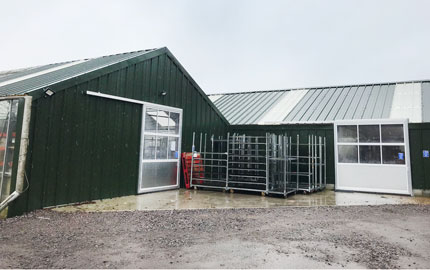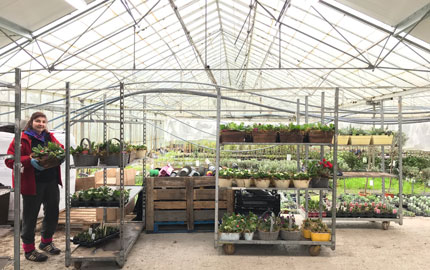 We've been busy investing in the nursery and are delighted with our shiny new goods in and potting area
Corono Virus Update - 5th January 2021
As we enter another lockdown period, please be assured we're still here and delivering to those you can't see in person at the moment.
Corono Virus Update - 5th November 2020
As we enter another lockdown period, we're still here and delivering to those you can't see in person at the moment. We've been busy over the summer, adapting the nursery and expanding our office to ensure that we can continue to keep our team safe whilst providing the same great delivery service. We know it's been a tough year for so many of us, but we've stocked up with lots of cheerful autumn flowering plants if you know someone who needs a little cheer and we'll be delivering right up until December 24th for those of you already thinking ahead to Christmas.
Corono Virus Update - 5th August 2020
Thanks again for bearing with us over the last few months. Of course we're still following best practice at the nursery to ensure our workplace is Covid-secure but we're delighted to be able to offer next day delivery again for all orders placed by 2pm. Over the last few weeks we've been able to finally catch up on all our customer correspondence. We're continuing to update the website daily with new photos and plants and our team are here for you if you have any further queries.
Corono Virus Update - 6th July 2020
Thank you so much to our customers for your continued support and patience through this difficult time. We are continuing to maintain strict social distancing and isolated workstations at the nursery but we're delighted to be able to extend our office hours back to our normal 9am-5pm opening and to start to offer next day delivery again. At the moment you need to order before 10am for next day delivery but we hope to extend this deadline over the coming weeks. We are working hard to keep up with demand but please bear with us whilst we catch up on new photographs and correspondence.
To help cope with the increased demand we've started an exciting project to extend the nursery 'goods in' and packing area:-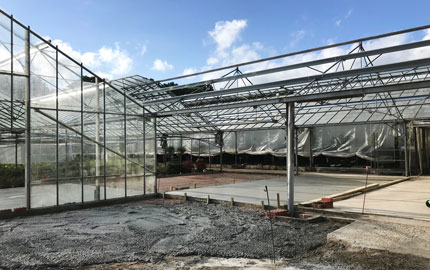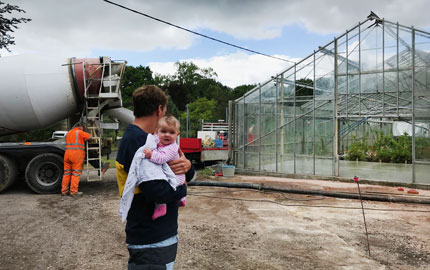 It's early days but we'll keep posting photos as the project develops; under baby Lucy's supervision!
In the meantime we still have lots of gorgeous plants available and we'll keep adding new seasonal plants over the coming weeks.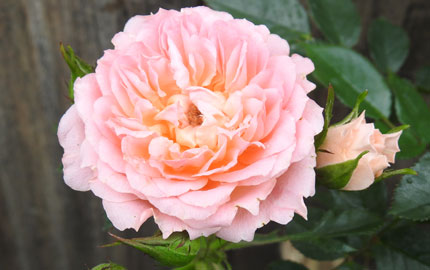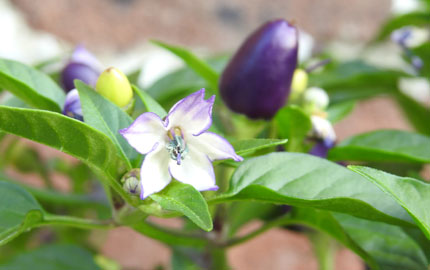 New season roses and chillies looking good for summer birthdays
Corono Virus Update - 3rd June 2020
Like many plant retailers we've seen a surge in interest and we've been very grateful to remain open and supplying a bit of cheer in these troubling times. We are continuing to review our practices on a weekly basis to ensure proper social distancing here at the nursery and are pleased to be able to extend our office opening hours from 8am-12 to 8am to 3pm this week. We are working hard to keep up with demand but please bear with us whilst we catch up on new photographs and correspondence.
We are prioritising ensuring that plant descriptions and availability are accurate on the website and please be assured all our plants are still leaving the nursery on time and both Royal Mail and DPD are still operating a very reliable delivery service despite the challenges they've faced. Over the next few weeks we expect to be able to add more container options as our suppliers start operating a more normal service but we still have lots of gorgeous plants available and we'll keep adding new seasonal plants as the summer rolls on.
Corono Virus Update - 23rd March 2020
In light of recent developments we would like to reassure our customers that we have put in place extra controls to safeguard our staff and of course our customers and their deliveries. All our plants are packed by a small team of plant lovers at our Sussex nursery and delivered by our trusted couriers and postal services across the UK.
We are continuing to operate but with split shifts and earlier delivery cut offs. We would like to continue to send out a bit of a cheer in these troubling times but we will review the situation on a daily basis.
Currently, as well as following common sense guidelines regarding handwashing and hygiene we have put controls in place to check that none of our staff or visitors have visited any of the most badly affected countries (as defined by WHO and updated regularly), have knowingly come into contact with anyone who has tested postive for the Covid 19 Coronovirus or are displaying symptoms that could be indicators of infection. Our workstations, packing benches and offices are being thoroughly cleaned and disinfected throughout the day and we are implementing increased distancing between staff and isolated workstations to minimise the chances of infection.
We use DPDLocal and Royal Mail for our deliveries, both of whom have been updating us regularly on their response to the crisis. At present DPD do not have any drivers who have tested positive and they running a normal service across the UK. In response to customer feedback, they have issued a statement noting that they don't require customers to use the shared electronic pod to sign for parcels so please do feel free to refuse to touch this and the driver can simply record the time and their own signature instead. Don't forget on out tracked DPD service you can also specify a safe place for a parcel to be left which can be useful if want to send to anyone who is already self-isolating.
As a small family business with minimal visitors on site we are not as affected as many people but our thoughts go out to those who are not as fortunate and to those who are helping to help and treat those already infected.
New staff member! - Born 23rd February 2020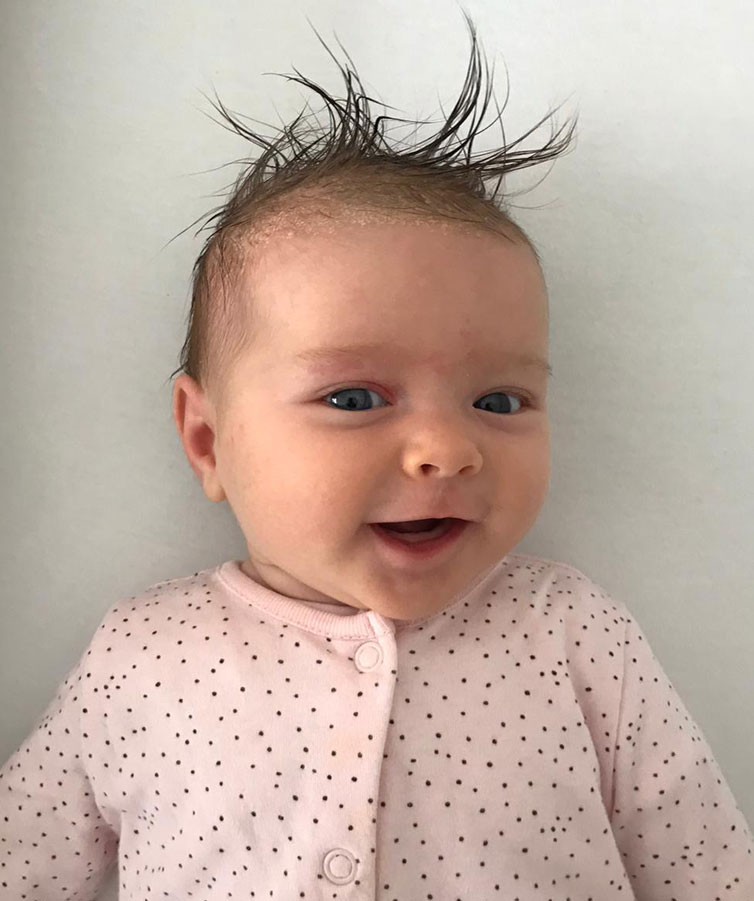 We're delighted to introduce baby Lucy Rae Baldwin the very latest member of the P4P team. She's already enjoyed her first couple of days at the nursery and as soon as she's old enough to hold a trowel we'll be teaching her the ropes! Plants4Presents has always been a family business, launched back in 2014 by mother and daughter team, Isobel and Emily Rae we're over the moon to welcome in the next generation.
Wishing all our fabulous customers a happy and healthy new decade!
Christmas is such a hectic occasion, and this year was no exception, we sent nearly 4000 plants out in the month of December to homes up and down the country. As well as our regular team we have extra 'elves' in to help get all our plants out the door on time, but even so in the Christmas madness we didn't have time to post about our latest packaging innovation.
Our new Greeting Card envelopes can now be be composted at home or recycled in kerbside recycling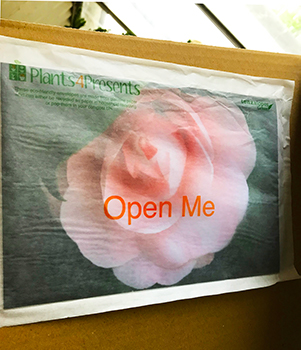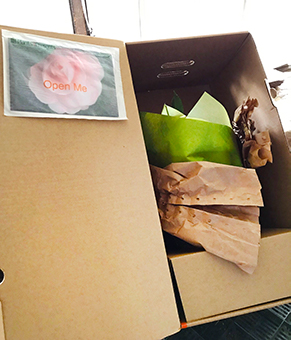 We're delighted that after many months of research and trials we've been able to swop out our biodegradable plastic document wallets for an even more environmentally friendly compostable paper solution. As our regular customers will know, at Plants4Presents we feel very strongly that we can help protect our environment and contribute to a better future. For us it's not just about about being seen to be environmentally friendly, we really want to find the best solution every time. Which is why we are so excited to have been able to replace the 20,000 document wallets we use a year with a purely paper product that can either be composted at home or can be recycled in normal kerbside recycling.
There is a lot of depressing stories about the effect of climate change on our planet but sometimes it's worth remembering that we can all make a difference. As packaging materials and the demand for more environmentally sound solutions continues, manufacturers are starting to respond. When we first looked for a better solution 5 years ago the best option we could find was biodegradable wallets. These were clear, waterproof, durable and able to degrade into smaller pieces in landfill over a period of time. In partnership with Tenzalope envelopes however, we have now finally been able to develop a better solution and our new envelopes are still durable, waterproof and clear enough to do their job but importantly will compost naturally either in a normal compost bin at home or can be put in normal paper recycling and reused that way.
Pressure from consumers and from smaller companies like ours can make big changes and we hope by promoting these more ecofriendly solutions other companies will come on board. If your company uses document wallets and would like to know more about how to get hold of glassine paper alternatives then please do get in touch. We hope our niche solution will soon become the norm.
so January is a chance when we can catch up, catch our breath and give the nursery a good spring clean so we'll be posting more news over the coming weeks.
P4P is 15! On the 27th October 2004 Emily and Isobel launched the Plants4Presents website and 15 years later we're delighted to still be here and continuing to grow!
Isobel is now semi-retired and enjoys spending more time painting and growing veg on her 'allotment' and these days Emily is helped out at the nursery by a fantastic team of ladies: Debbie, Michelle, Sarah, Libby and Fiona who all go that extra mile to ensure our plants arrive in perfect condition all over the country.
Autumn is a quieter time of year in the garden but we've been busy on a number of new projects here at the nursery. We're pleased to launch a new cheaper tracked delivery service for just £4.50 this month. Perfect for those of you that are a little more organised, this tracked 2 day service is available on our smaller plants and as with our other tracked services you'll get updates on when your plant is delivered and you can specify where the plants should be left if no one is home on delivery. We're also continuing to make improvements on our packaging and we're looking forward to phasing in our new custom made compostable envelopes before Christmas.
Speaking of Christmas, with only 8 weeks to go we've got a great new festive range coming together already.
You can shop and browse Christmas gift ideas here and we'll be adding more gifts and updates over the coming weeks.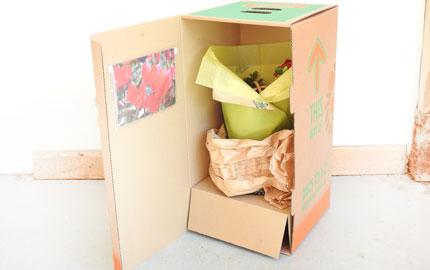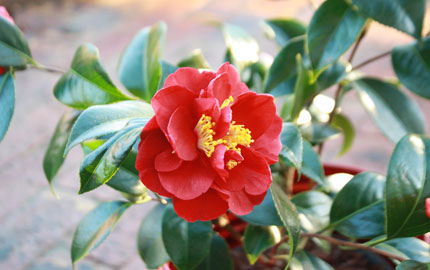 We're constantly reviewing our packaging to ensure it is as secure and environmentally friendly as possible; Christmas is coming... take a sneak peak at our 2019 festive range
September 2019
Sorry to bring up the dreaded B word but please be assured that we are doing everything we can to prepare for Brexit and to minimise the impact of this on our customers. Like most businesses we will be adversely affected by a no deal Brexit. We import a lot of our citrus trees from Italy, our paper products come from France and our ceramic pots come from Germany so we are expecting to have to increase some of our prices if we do leave the EU on the 31st October without a deal.
As the summer season draws to a close we're busy at the nursery, catching up on the maintenance that an old nursery needs and clearing space for new season stock. The wet weather does at least mean our rainwater reservoir is nice and full and we're excited to welcome in old favourites like camellias and cyclamen to brighten up the shorter days.
July 2019
We had a fabulous time at Hampton Court at the beginning of the month, as always it was great to meet so many of our customers face to face. We collected another shiny Silver medal and it was a pleasure to meet Adam Frost and Frances Tophill who featured our calamondins in her show coverage on BBC Gardeners World.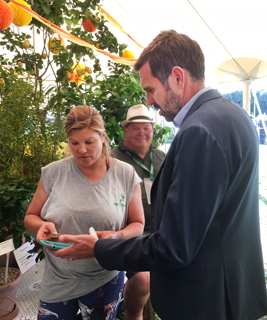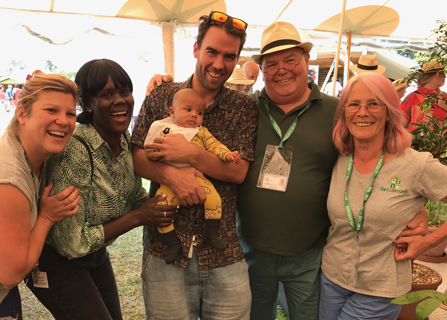 Celebrity visitors to our stand: Adam Frost from BBC Gardeners World and Rio our gorgeous new Nephew/Grandson, :)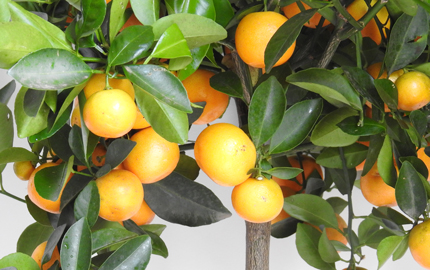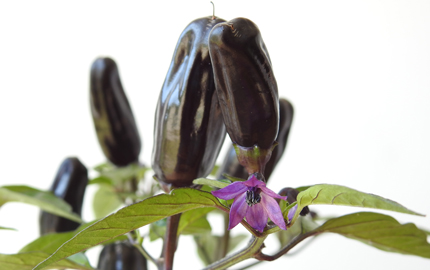 Our Calamondins were featured on the telly at Hampton Court, funky black chillies ripening nicely in the sunshine.
Whilst we are catching up in the nursery, the summer sunshine is bringing our plants on a treat and our next show will the fabulous West Dean Chilli Fiesta near Chichester- hope to see you there!
RHS Hampton Court Garden Festival - 1st - 7th July 2019
As another roll years by we're delighted to be back at Hampton Court for a busy week of all things Citrus. We're back in the Dig In tent amongst lots of other tasty treats and this year we're celebrating our 15th year with a colourful display including some really unusual specimen plants.
From fruiting finger limes, citrons and funky looking 'canaliculata' oranges to edible flowers, ginger and tumeric we've got lots of gorgeous plants to see and great offers on plants to take away with you. Emily will be doing talks in the Dig In theatre at 5.30pm on Wednesday 3rd and Friday 5th July all about growing Citrus for a bumper harvest and of course Hampton Court is the biggest flower show in Europe with plenty of fabulous gardens, food, drink and plants galore.
If you are able do pop along to the show this week and come and say hello to us in the Dig in Marquee (stand DG352).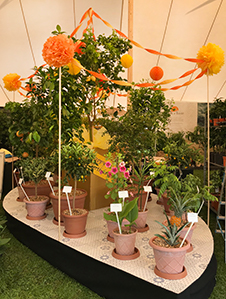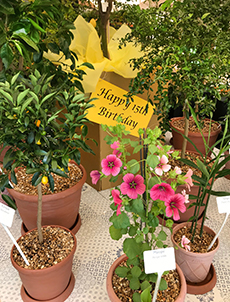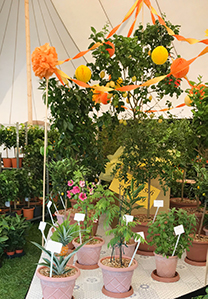 Summer Sun - June 2019
We're love the longer days here at the nursery and it's always nice to see and smell the summer flowering lavenders and hydrangeas but we've also added lots of lovely new gifts to our range this summer from dramatic glory lillies to tasty new fruit trees and from pretty pink spirea to stunning Japanese Forget me nots.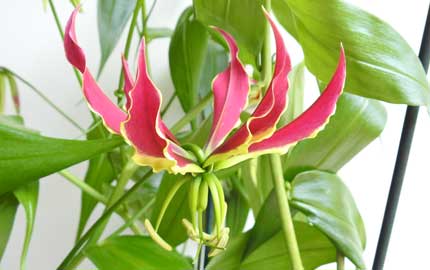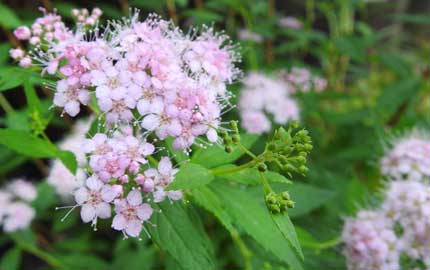 Dramatic glory lillies and pretty 'Little Princess' spriea make great gifts for summer birthdays or anniversaries.
New Plastic Free Range
As our regular customers will already now we work hard to ensure our business and our delivery service are as sustainable as possible. We always have and always will choose sustainable cardboard and paper packaging that is easily recycled rather than plastics and cellophane that ends up in landfill. This year though we're really pleased to launch a new range of Plastic Free Plants.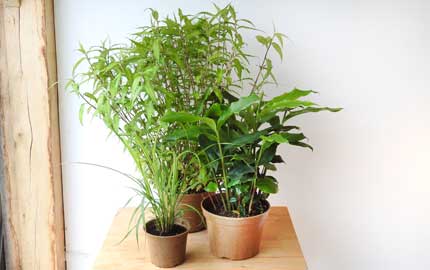 Japanese Forget me nots and a new Exotic Herb Collection just a couple of the plant gifts available in our new Plastic Free Range.
Plastic is still widely used in the horticultural industry as a practical material to grow and transport living plants and as we source many of our plants from nurseries that use plastic pots most of our range can't be guaranteed entirely plastic free. However there are a number of plants that we either grow here or repot on site at the nursery and after successful trials witha new biodegradable 'Vi-pots' we are now able to do all our own repotting into these biodegradable pots rather than into new plastic. These attractive pots are made from by-products of the agricultural industry and include a mixture of rice husks, corn and bamboo waste compressed into a lightweight waterproof material. When intact they have a life cycle of at least 5 years but once they have been used they can be smashed (to allow moisture to get through the outer seal) and then either disposed of in normal household waste or composted as food waste and in either case they will break down completely into natural compost over a period of 9-18months.
For this range of plants we have also made a couple of changes to our packaging process to eliminate the last trickier pieces of plastic in our packaging. For this new 'Plastic Free' range of plants we have substituted the oxo biodegradable plastic document wallet with a reusable satin ribbon and we have also left out the plant tonic for which we don't yet have a suitable non-plastic alternative. Over time we hope to add more plants to these completely 'Plastic Free Range' but in the meantime please do be assured we are doing absolute everything we can to reduce plastic waste across our full range of gifts as well.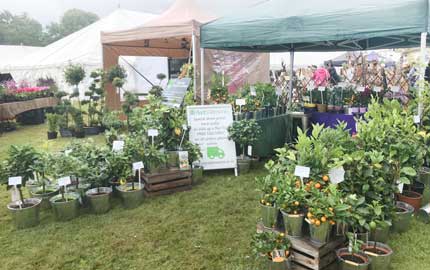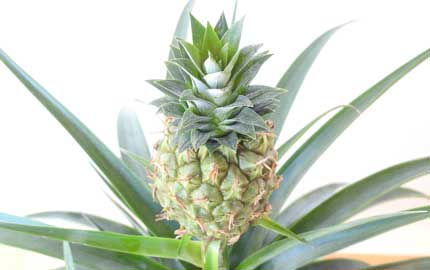 Dodging the showers at the Garden Show at Stansted House; Don't forget we have a great range of fruity gifts for Father's Day 16th June
Sadly we are not going to be able to squeeze in an open day this summer but we will be announcing and open day in November so watch this space for more news on that. In the meantime we've been out and about and the first shows of the season and we're getting ready for RHS Hampton Court Flower Festival at the beginning of July.
Spring blooms and new beginnings - April 2019
March is always a crazy month for us but we had a record breaking mother's day this year and saw an interesting shift from citrus trees and more unusual plants back to the classic spring planters and garden plants this year. We sent nearly 2000 mother's day gifts out in the last week of March and had a fabulous team of temps in to help us do that.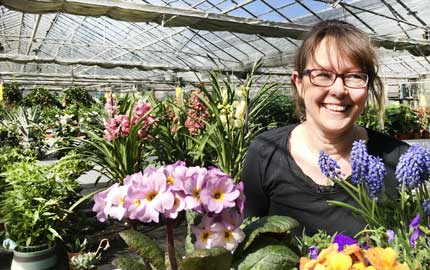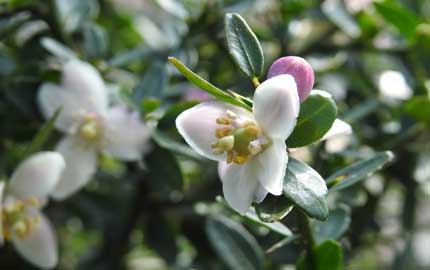 As we continue to grow as a business we have been recruiting and we're delighted to welcome Sarah, our latest part-time member of the team to the fold. After a baptism of fire for Mother's Day Sarah is now settling in to her role helping with customer service and wrapping and packing those precious plants so they arrive with you in tip top condition.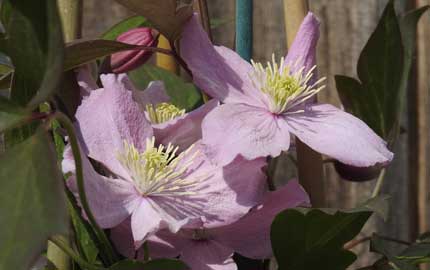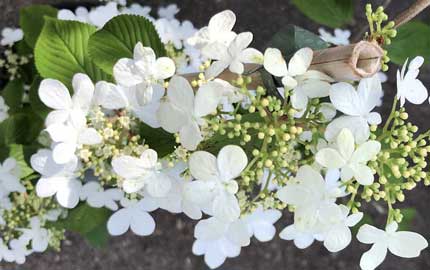 It only takes a few days of sunshine to bring everything on in the greenhouses and the last few weeks we've been enjoying the fabulous scent of blossom... and the bees have too! With the new season we've been introducing lots more colourful plants for the spring garden including these pretty pink clematis and unusual Viburnum 'Kilimanjaro'.
NEW Ireland service - March 2019
We're delighted to be launch a new Southern Ireland delivery service. Working with our partners DPD local we can now delivery on a 2 day service to any address in Ireland for a very reasonable £14 a box. This service is available already on the live site and will still be available after the 29th March whatever happens with Brexit. Simply enter the delivery address as usual on the order form and make sure you choose 'Ireland' from the country drop down menu next to the postcode.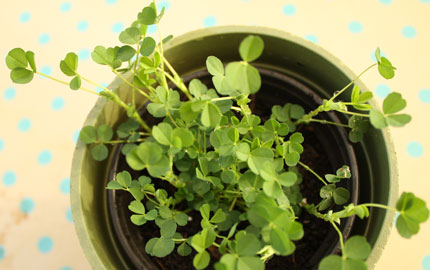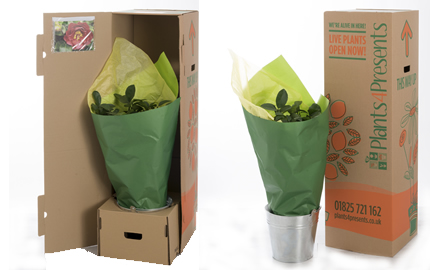 Perfect if you want to send a little something for St Patricks Day!
Don't forget we can still deliver to Northern Ireland too either on a Royal Mail Tracked service for smaller items at just £6.95 of for £14 on a similar 2 day courier service.
Wishing all our customers a very Happy New Year! - January 2019
After the Christmas excess, January is a time to take stock, recuperate and plan ahead for the coming growing season. The days are getting longer already and we can see the changes in the plants at the nursery as we move into the new season.
2018 was a challenging year weather wise, but it was our busiest year yet and we've got lots of plans to build on this for 2019.
We're delighted to announce we can now take American Express payments through the website and we'll be trialling a new Ireland delivery service next month too.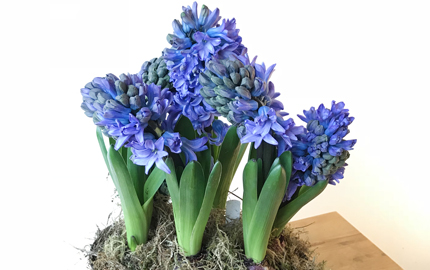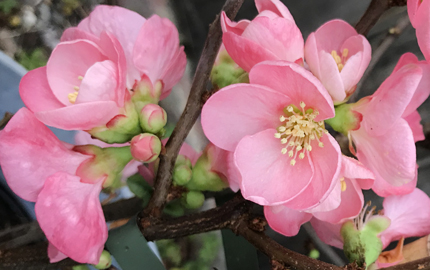 Fragrant hyacinths and colourful japanese quince flowers are making us smile in the nursery this month
We've already confirmed that we'll be back at Firle Place and Hampton Court Flower Show later this year and we'll be releasing our full list of show dates in the coming weeks. Watch this space!
Christmas is coming!
Christmas is our busiest time of year and so we've been busy preparing for the madness that December brings. Our favourite temps will be back in the packing line this year and we've been busy planting our christmas amaryllis and tidying up the nursery to make space for all the festive new additions.... and we've got some crackers for 2018
From subtle evergreen clematis for the garden to these decadent dendrobium orchids we've got over 100 plants to choose from for Christmas deliveries.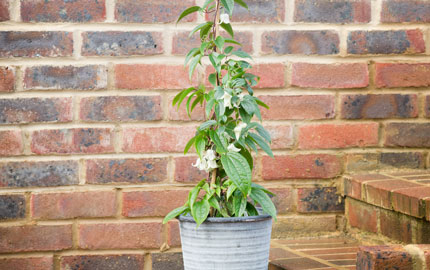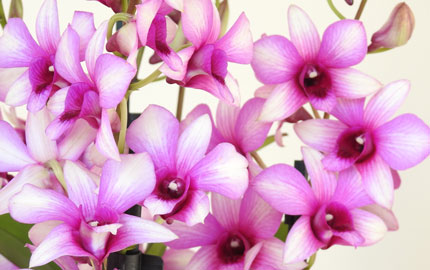 For those of you who like your deliveries to arrive as close to christmas as possible we will be delivering right up to the 23rd December but we recommend choosing the 20th or the 21st december as the weekday deliveries are always a little cheaper. If you are ordering plants for yourself or if the date isn't too crucial we're always grateful if you can pick a date a little earlier in the month just because it helps us and our couriers avoid that last minute rush.
In the meantime, we've been getting creative with a new festive Christmas card and we've also been planting up lots of funky new planters for indoors and out.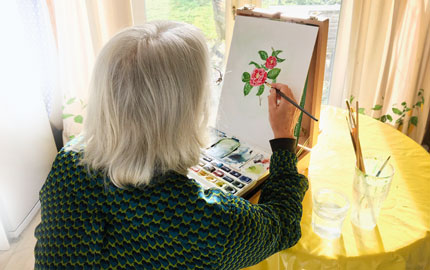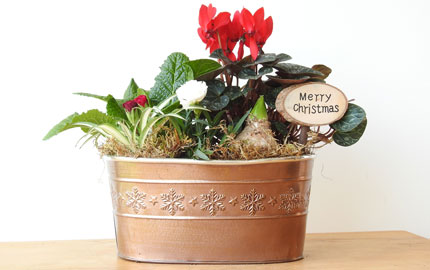 From the 3rd December will be staying open later in the evenings so do give us a call anytime between 8am and 6pm if we can help with any queries or if you just prefer to place your orders by phone.
October Update - P4P turns 14!

Plants4Presents first launched on the 27th October 2004 and 14 years later we're delighted to still be here and going strong. Lots has changed since our humble beginnings but we still have a great team of dedicated plant nuts here in Sussex and we're looking forward to the next decade of growing and growth!
We've been at some lovely smaller shows this autumn, from Sussex Prairie Gardens to Great Comp in Kent, it's always nice to be set out amongs such stunning backdrops. Our last show of the season will be the RHS Urban show in London, do pop along if you can.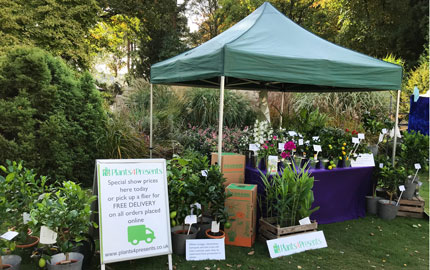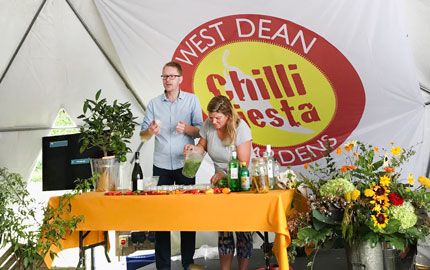 Positioned amongst stunning grasses and Salvias for Great Comp: talking Cocktails with the ever entertaining Mark Diacano
After a long hot summer, these balmy autumn days are very welcome. Autumn is a time for reflection and to gather our thoughts before the hectic festive season. We're enjoying our bumper fruit harvests and introducing some lovely new plants to keep the colour going in the garden.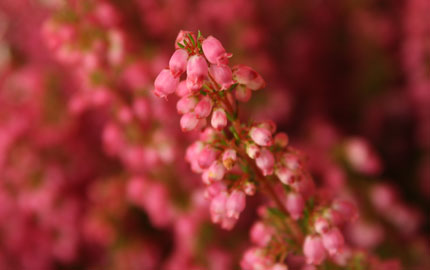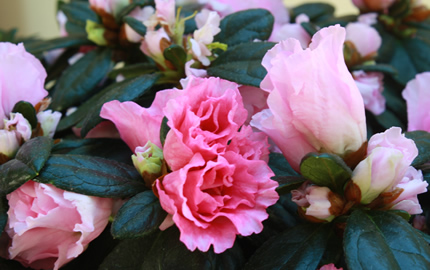 NEW heathers are looking great for late season garden colour and our popular indoor azaleas have now made a welcome return.
For the super organised amongst you we have already started to put together our Christmas selections for 2018 and we'll post more updates as we confirm them.
Scorching Summer
Well it's certainly been a tropical few weeks at our Sussex nursery and in this hot weather we've been watering twice a day and seen temperatures of over 45C in the greenhouses.
It's hard work on the watering but our citrus trees particularly love this weather and we're looking forward to a bumper harvest in the autumn.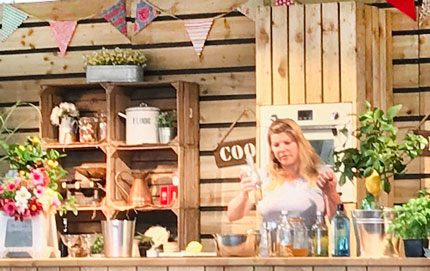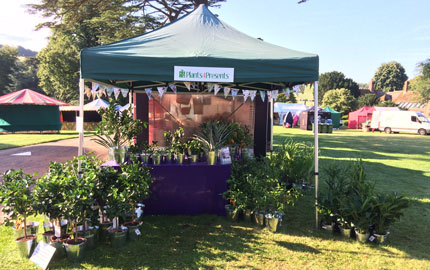 Of course the sunny weather has meant busy days out on the road at Hampton Court and at Lambeth country show and as always it's great to meet our customers face to face. Our last show for the summer will be Chichester Chilli Fiesta at West Dean Gardens on the 10th-12th August. Another great day out, where will be showcasing our tasty citrus and our unusual herbs like ginger and cardamom, so please do come along if you can.
We were also delighted to be shortlisted for 'Best Customer Service' in the local lewes district business awards just recently. A testimony to the hard work and dedication of Michelle and Debbie here at the nursery, it's great to receive this kind of recognition and of course it's fun to down tools and dig out a frock for the evening too!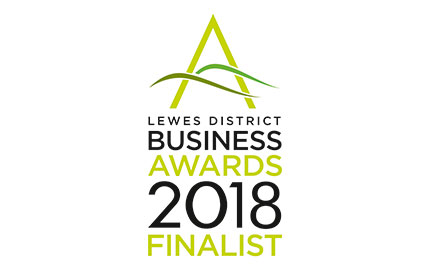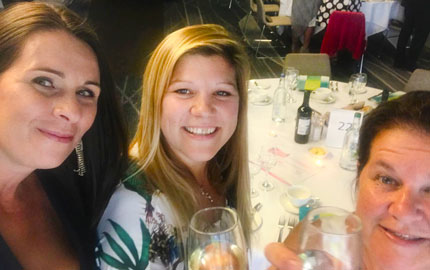 Sadly this month, we said goodbye to one of our lovely team, Hannah as she moves on to pastures new but we're delighted to announce the start of our latest recruit, Honor. Another Sussex lady and a great plant lover, we're excited to have her onboard and she'll be helping on the phones and in the nursery over the coming weeks, so do say hello and make her feel welcome.
May Madness
We had a fantastic time at the RHS Malvern Spring Festival at the start of the month. It felt like after a slow start, the season has now really taken off. Our "Grow Your Own Cocktail" stand was popular with the judges and visitors and its always nice to be at Malvern, it's such a fun and relaxed show.

If you weren't able to visit, do check our our 'Grow Your Own Cocktail page for top tips and recipes and also a tempting video on how to make your own limoncello!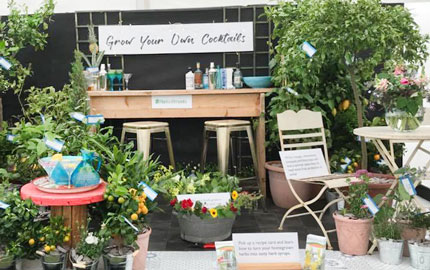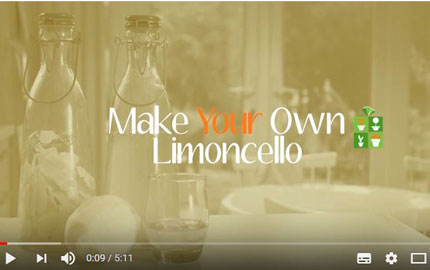 As plant lovers, we have always tried to ensure that our packaging and our nursery practices are as eco-friendly as possible, so we are really delighted to have found a compostable replacement for the plastic bags we used to use.

We wanted a bag that would not just degrade eventually but that would offer a real environmental friendly alternative. These new bags are made from plant starch so are made from sustainable resources but also are completely compostable and will naturally break down to organic matter either in council food waste collections or in a normal household compost bin (and yes we've tested that ourselves :)). Find out more about our environmental commitments or let us know your suggestions, we'd love to hear from you.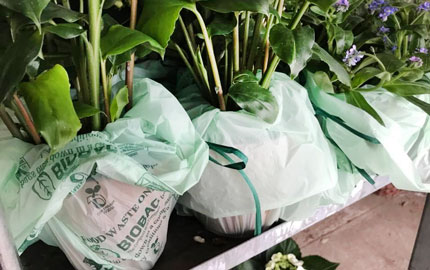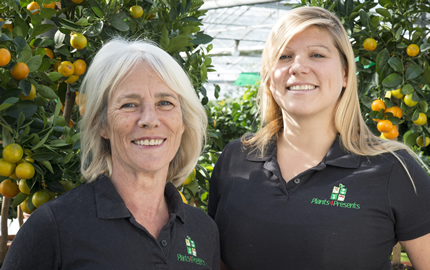 Of course there has been a lot of publicity about the latest GDPR regulations this month too and in line with this you can now view our updated privacy policy here. As a small family business we have never and will never share our customers private information but of course if you have any concerns or queries please do let us know.
April Sun and Showers
We've had some glorious sunny days this month and some impressive downpours too. April is a month when everything springs back to life and the nursery is absolutely bursting with blossom. From delicate apple blossom to the stunning fragrance of our lemon and orange blooms, it's a lovely time of year at the nursery.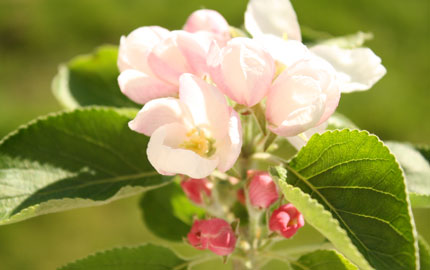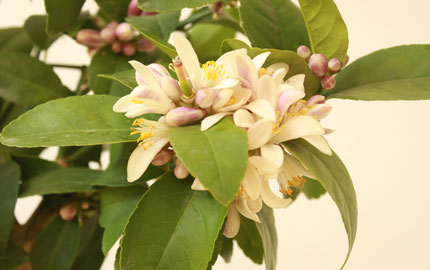 As the weather warms up the show season begins and we've already been out and about at 2 local events this month, Great Comp plant fair in Kent and the Garden Show at Firle Place. As always it's lovely to meet our customers face to face and the weather at Firle place and the stunning backdrop meant we'll definately be back again next year.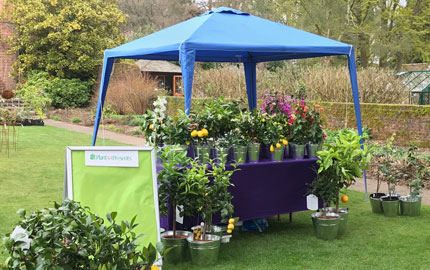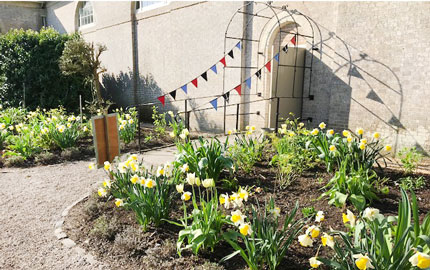 Our winter flowering plants and orchids have now made way for returning summer favourites and also some exciting new additions. From pretty lavender and patio roses to exotic hibiscus, calla lillies and bougainvillea to these new 'Everlasting Lilac' there is plenty of colour for the house or the garden. Don't forget if there is something you don't see then please do drop us a line and we'll let you know if it's something we'll have later in the year or sometimes we'll be able to source that special plant just for you.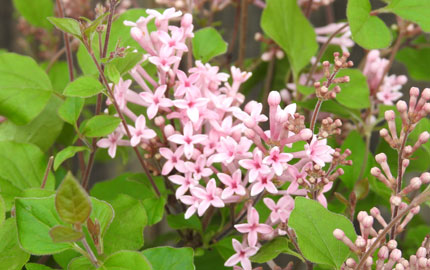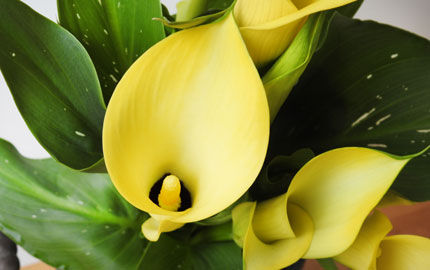 Our next show will be the RHS Malvern Spring Festival 10th-13th May where we'll have a colourful 'grow your own cocktail themed stand. Watch this space for more details and plant inspiration coming soon!
NEW boxes, NEW personalised service and fab NEW fruiting plants now in for Spring! - March 2018
We know it's so important that our plants not only leave here looking great but that they arrive with you in tip top condition too. To this end we are always looking at ways to improve our packaging and delivery service.
This month we're delighted to introduce two new innovations, a new smaller box for our smaller plants and planters and a new eco-friendly void filler to protect your plants in transit. Made from recycled and recyclable paper this 'knitted' cushion can be recycled alongside cardboard in any council recycling scheme and can even be cut up and composted in your domestic compost bin. Best of all, we're already seeing an impact with a 50% reduction in damages on our most fragile planters.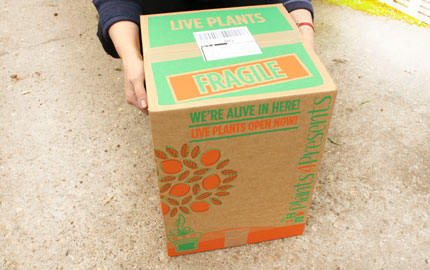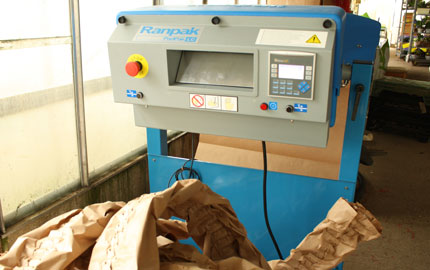 Do you have a comment about our packaging or delivery service? Or maybe you've found a creative way to reuse our new packaging
- We'd love to hear from you!
After such a long, wet winter the spring blossom at the nursery is a VERY welcome sight. We're delighted to introduce some fabulous new fruit trees to our range for 2018 from these stunning Nectarine trees, to tasty Apricots and Pears. These patio trees will make a great feature whatever the size of the garden and are a lovely way to mark a new birth or a special anniversary.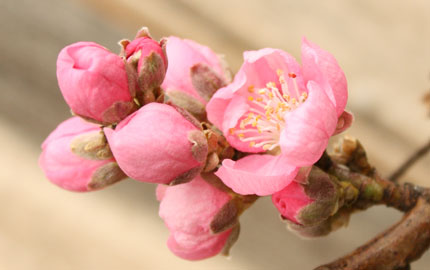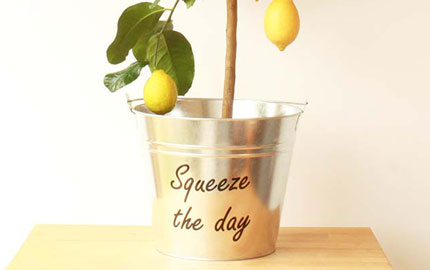 And when it is for a special occasion we've added the ability to add your own personal message to any of our plain metal pails. Listed as an extra option on our lemon and calamondin trees this service is also available as a seperate 'personalisation' listing and can be added to any plant sent in a plain metal pail. You can add a birth date, names or a special message for just £5 and with up to 20 characters you can be as creative as you like!
Happy New Year from the Plants4Presents Nursery!
We had a super busy Christmas, helped out by our team of fabulous Christmas elves we sent over 4000 plants to homes up and down the country. Now the mince pies have all been eaten, the sherry drunk and it's time to start turning our attention to the new gardening year.
Even this early in the season, there are signs of spring at the nursery, the days are getting longer, the bulbs are up and we've started our Spring Sowing. We've also got some lovely new gifts for January from the very first of the new season from Kent, to Lucky Bamboo to welcome in the Chinese New Year. There's plenty of spring cheer to banish the January Blues.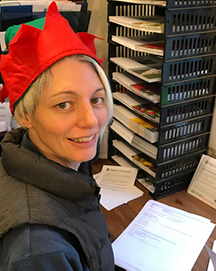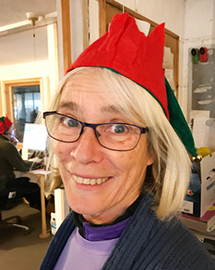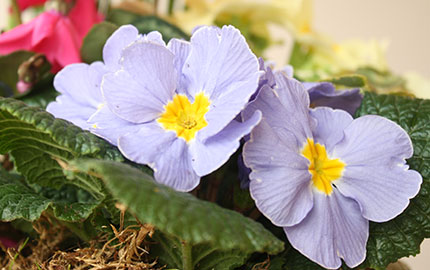 Snow Update - 8th December
Unfortunately with heavy snow and gales in Scotland at the moment and more forecast for the weekend we experiencing delays to some delivery addresses in these areas. Our plants are all carefully wrapped and boxed against the cold and are sent on the fastest perishable services but unfortunately the weather is a little out of control. In snow affected areas we are currently seeing a one day delivery delay, however our couriers are working all weekend and you should receive regular updates on your delivery progress or of course you are welcome to give us a call in office hours on 01825 721162 for an update.
Video-tastic!
How did that happen? it's nearly December already. We've moved most of our larger citrus inside to their winter homes and the nights are drawing in. We've not been idle though. We've been working with the fantastic team @Lightbox Inc on some fab new videos - letting you see behind the scenes here at the nursery and also creating some 'how to' tutorials to answer our most common care questions. You can see the whole collection and subscribe to new videos on our youtube channel. We hope you like them!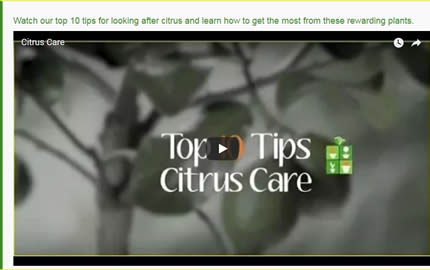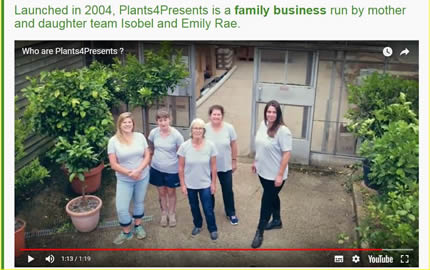 As you'd expect we are already we're already getting organised for Christmas and have confirmed our favourite temps will be helping out in December. We're particularly pleased with our christmas range this year with some really strong flowering quinces, camellias and skimmias for the garden as well as some lovely new INDOOR hellebores and Christmas tree shaped azaleas which are sure to hit the spot.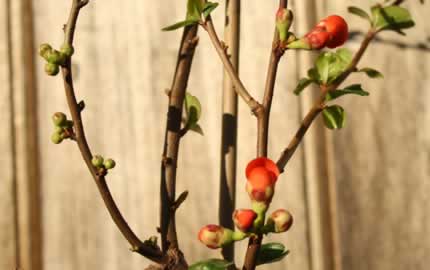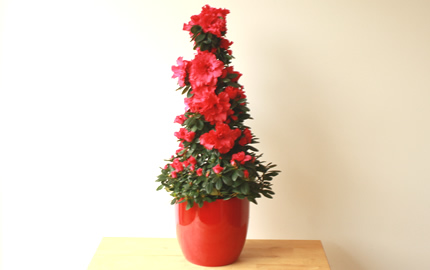 Our Christmas Lavender, Christmas Bays, Sloe Gin gift Sets and Sussex grown poinsettias will all be back for the festive season. We've planted our giant amaryllis and are now eagerly awaiting the first fat bud and then we'll know Christmas is really coming!
P.S. Whilst the amaryllis are getting their roots down we're working on our Christmas card list. If you've been 'good' this year keep an eye out for a little christmas thank you coming through the door.... ;)
Nursery News - September 2017
Since our Sussex at Hampton Court we've been continuing to have fun with Cocktails, making passion punch from our homegrown passionfruits for our staff party and taking our Grow Your Own Cocktail bar on tour to Wisley Flower Show to round of the season in style!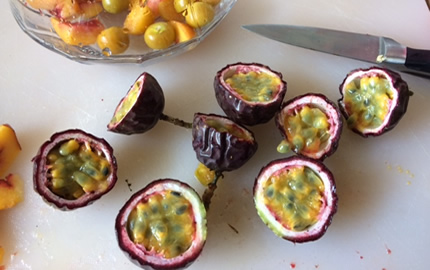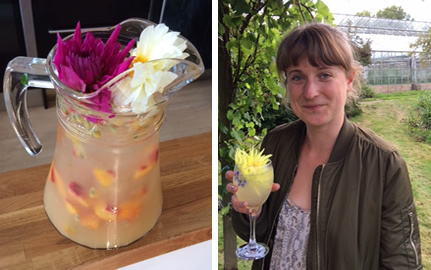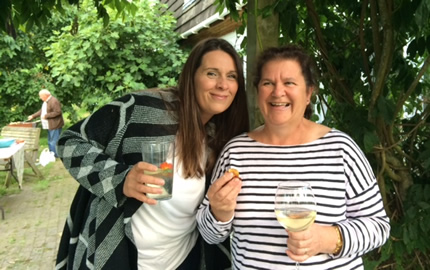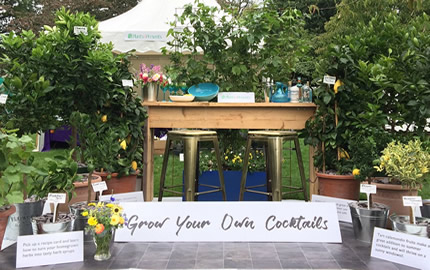 In between cocktails we've also been working with the lovely peeps at lightbox inc on some exciting new videos, so watch this space for some fun how-to videos coming soon.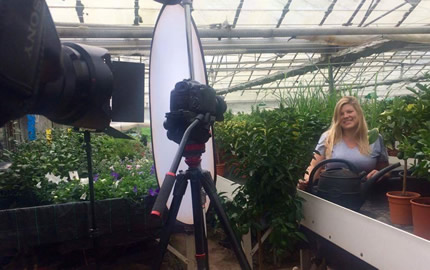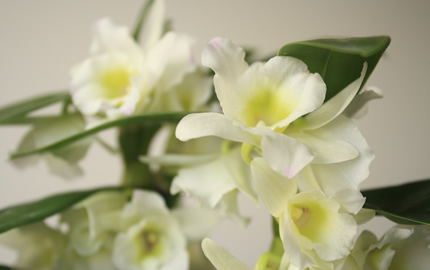 As we roll in to autumn it's all change with the plants and our summer hydrangeas and roses are now making room for autumn flowering cyclamen and orchids. Our selection does change from week to week but you can always catch up on our newest additions in our 'Just In' range.
On the telly!
It's been an exciting month for us at P4P with our first tv appearance talking cocktails on Saturday Kitchen Live. It was a great experience and Si and Dave from the Hairy Bikers couldn't have been nicer. If you missed it you can catch up here www.bbc.co.uk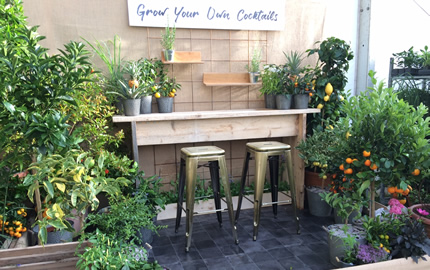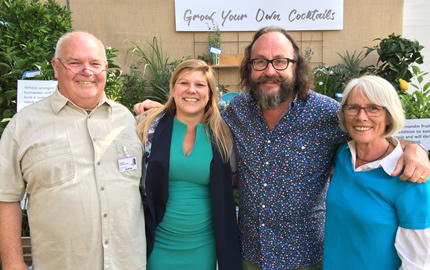 We were awarded a shiny silver medal for our display at Hampton Court Palace Flower Show and had heaps of interest in our 'Grow Your Own Cocktails'. You can read more about our exploits and download our tasty summer cooler and 'gin-a-licioius' cocktail recipes here
We were also excited to be shortlisted for 'Small Business of the Year' in our local business awards this month. Sadly we were pipped to the post but the team had a great evening and it was nice to swop workboots for frocks for a change!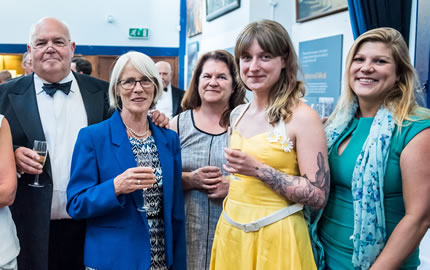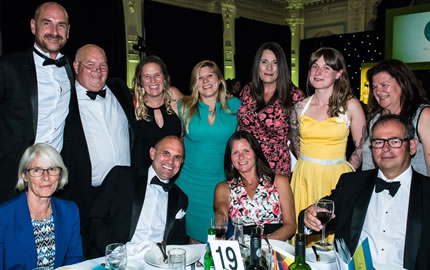 Now summer is well underway we have lots of colourful new season flowering plants for indoors and out and next month we'll be out on the road again at Chichester Chilli Fiesta so please do join us if you can.
Nursery News - June 2017
Despite the heat on the day it was great to meet some of our customers from near and far at our Summer Open Day. As usual we didn't take as many pictures as we meant to but we hope that those of you who came along enjoyed the day. We'll be opening again in October for a special citrus day so do try and come along if you can. More
Nursery News - May 2017
Well as always there has been plenty going on behind the scenes here at P4P HQ. We've been working hard on ironing out the last little wrinkles in the new website and like all IT projects we could never have imagined how long it would take or how time-consuming all the nitty gritty would be. We have had lots of postive feedback though, from you our lovely customers and will be making the last couple of tweaks to the account holders address book in the next few weeks.
If you have any comments on the new site or perhaps there is a new plant you would like to see, please do get in touch, it's always great to hear from you.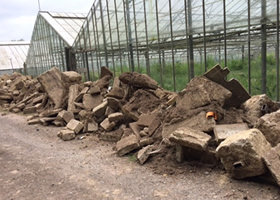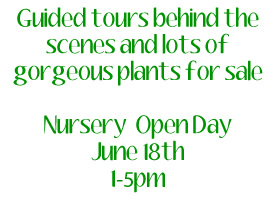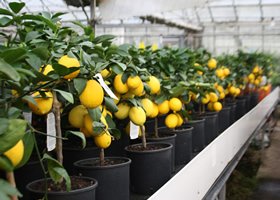 In the meantime we've been doing some building work at the nursery, removing some of the oldest, unused greenhouses and getting the site here spruced up ahead of our next open day on the 18th June. If you are in the Sussex area on the day it would be great to see you.
Nursery News - March 2017
Drum roll pleeeease!
After months of planning our new shiny website is now live and kicking - we hope you like it!
You'll notice a cleaner look, larger images, more options on pots and containers and the ability to pay for orders with your paypal account.
Behind the scenes it's a completely new site with more traffic capacity, better stock control, better security and the tech to help us continue to grow for many years to come.
It is of course still the same friendly faces at the nursery so if you are not sure about anything on the new site or you would just like to speak to us direct, then do give us a call at the nursery on 01825 721162.
History
Plants4Presents launched in 2004 and has steadily grown into the busy mail order nursery it is today. See our About Us page for more information about the team behind the scenes or browse our newsletter archives for more pics and news for days gone by.