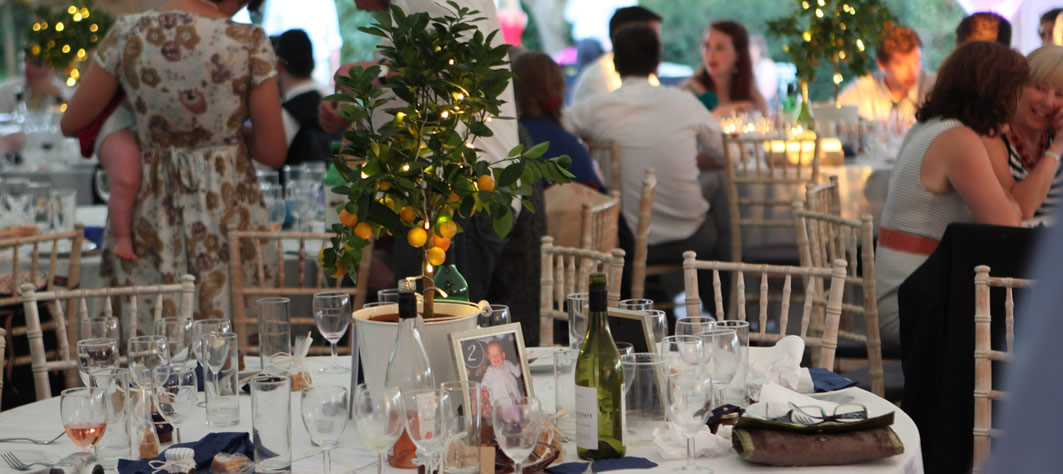 Living plants are a stunning choice for wedding centrepieces
Potted plants both as table displays and as free standing focus points can really bring your venue to life.
Living plants add that special finishing touch and can double up as thank you presents for those who have worked so hard on the wedding itself. We've provided more and more plants for weddings in recent years and had some fantastic feedback.
"When the plants arrived they were in great condition, and on the wedding day, they made truly beautiful centre pieces which our guests complimented on non-stop!"

Nicola Parker
Choosing the table decorations is very personal so do give us a call and talk through what you had in mind, whether it's herbs, citrus or flowering plants we'd be happy to talk to you about what will be in season for your dates and what would suit your colour scheme. We can provide individual potted trees, flowering plants, planted arrangements and even Sussex grown wildflowers. Of course each wedding is individual but we've tried to include a few pictures of past weddings to get your imagination going.
Calamondins were our most popular trees for weddings in recent years and we've seen them decorated in some fabulous ways
Plants make a real statement as wedding centrepieces; Looking ahead to different seasons? we can also can plant up a range of containers to your colour theme.
Interested in larger quantities of plants from our main website?
If you have seen something you like on our main website please do give us a call and we'll be happy to price these up for you. Because we specialise in gifts our plants always have to look really special on arrival so we don't 'mark up' for weddings. However we would advise that you talk to us first about what you are planning so we can help suggest what will be in season, how best to arrange the transport of the plants to the venue and suggest plants that are the right size for your tables.
If you are looking at more than 10 plants to one address we can usually offer a 10% discount on our online prices and source something just for you. That's right we won't add a hefty price tag for weddings and if we can, we will actually reduce our normal prices to help with the cost of your big day.
If you have an idea but you are not sure how practical or expensive it might be - give us a call. We love doing weddings and we're always happy to help.
Plants for Wedding Gifts
Plants make great gifts for weddings, whether the happy couple are moving into a new home or whether you want something to be a lasting reminder of the big day. Don't forget you can schedule the delivery with all our plants and choose a delivery date either to their home when they are back from honeymoon or even directly to the venue for the big day. Not sure what to send? Gift vouchers are a popular choice and can be issued for any amount allowing the happy couple to choose their own plants once the commotion is over.