Available from 08/12/2023

Rated 4.9 out of 5 stars

These stunning azalea pyramids are a little bit different and will put on a wonderful display of beautiful bright blousy flowers, for several weeks, providing a pretty splash of colour during the dark months
Current Description
New season! As expected the azalea pyramids are looking fantastic covered in buds and blooms for long lasting colour after arrival. Always popular, choose your preferred colour from the drop-down menu and delivery date on the order form and let us do the rest! Always popular, we have already sold out of the red but do keep checking back as we are hoping to have more red pyramids available in the run up to Christmas.

4.9

/ 5
32 reviews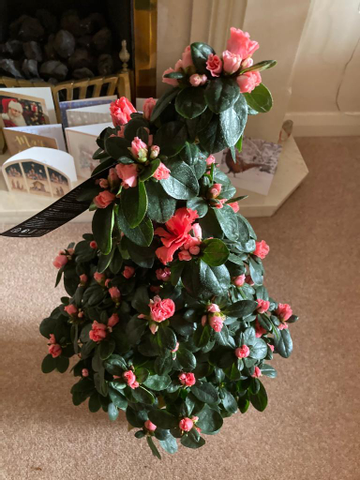 Great job. Beautiful plant. Delivered on time. Receive consistent quality from this company

A stunning plant in full flower. Perfect as a Christmas gift.

I ordered this product from the USA, to send to 2 friends in England. They were very happy with their Azalea Pyramid and sent me photos. It was beautiful!

Yet again wonderful service and product. My mother loved her Christmas plant.

Lovely, healthy beautiful Azalea Excellent service.

Amazing Plant perfect for Christmas - Recommended!

Excellent - a lovely gift well received


A vibrant pink, not what I expected but my friend was absolutely delighted with her 60th birthday present.

This plant is well worth the money and has made a wonderful birthday gift for a winter celebration.

These instructions are sent with the plant gift
Looking after your Azaleas
Azaleas are very popular houseplants because they provide fabulous flowers with very little effort. These Azaleas have been raised to live inside, keep them cool and damp and they will reward you with flowers for several weeks.
For best results place your plant near a window or skylight. Indirect light is best and the cooler the room is, the longer the flowers will last.
Azaleas are thirsty plants, the warmer the room, the more they will drink. Water thoroughly from the top several times a week and let the excess drain away. If you are going away on holiday, to be sure the plant does not dry out, stand it in a shallow saucer of water.
To keep your plant looking good, cut off dead flowers and brush off dead petals. Azaleas can be planted out in the garden once they have finished flowering and should settle in for a repeat performance next season. Azaleas do prefer an acidic soil but, if this is not possible in the ground, they can be potted into a large pot of ericaceous compost.
Drooping or flower drop is due to lack of water so give your plant a good drink and it will soon recover.
We found other products you might like!