The Chinese New Year celebrates the start of the New Lunar Year in the chinese calendar and because it is tied to the phases of the moon the exact date moves around from year to year. This year Chinese new year falls on Tuesday 1st February and is a time for families to come together and wish each other peace and prosperity.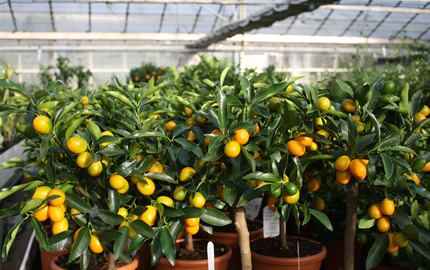 Why is citrus such an important part of Chinese New Year?
Round objects and gold objects are often considered 'lucky' in china but citrus are particularly prized and are often used in Chinese New Year celebrations. Like the christmas tree in Christmas celebrations the mandarin or orange tree symbolises the start of the festive period and may be displayed in chinese restaurants or chinese homes in the run up to the main celebration.
Giving citrus trees or citrus fruit is also considered to symbolise wishing good luck or fortune. Citrus trees are particularly symbolic plants and are thought to bestow luck and good fortune on the receiver. In fact the more fruit a tree has, the more luck and wealth it is thought to bestow. For this reason the prolific calamondin and kumquat trees are often given as gifts at chinese new year. Other gifts are often accompanied by a fresh mandarin fruit symbolising prosperity and ideally they should include a couple of leaves to show they are fresh and to symbolise fertility.
Which Citrus?
The number and colour of the fruit at the time of giving is more important than the variety, but kumquats, mandarins, oranges and calamondins are all traditional gifts at new year.
Ideally trees should have an odd number of fruit and the fruit should already be colouring to orange or 'gold' and are often given or displayed in pairs to symbolising 'doubling' of wealth. In mandarin the word 'tangerine' sounds very similar to the word for luck and the word 'orange' sounds very similar to the word for wealth, perhaps this was the origin of the association but whatever the origins of the tradition it's certainly a cheerful way to brighten up a house or office in the dead of winter.
At Plants4Presents we specialise in citrus trees and have a wide range of sweet and sour oranges available all year round. We try to keep the pictures as up to date as possible so you know that if they are advertised with orange fruit this week, that is what will be delivered. Don't forget you can choose your container including auspicious red pots and pails with red bows and choose your delivery date including Saturday 25th January on the order form.
MARCH UPDATE We'll update this page again for 2023 in due course but if you have any queries in the meantime please do give us a call at the nursery on 01825 721162.