Rated 4.8 out of 5 stars

These classic Cymbidium orchids are absolute stunners. At 5 years old, they will provide tall, elegant blooms for many weeks. Also known as the 'King of Orchids', Cymbidiums are one of the easiest orchids to look after and cope well with central heating.
Current Description
The new cymbidium are looking absolutely gorgeous again, with at least 3 spikes of buds and blooms. These beautiful long lasting flowers are currently available in pink, white or a lime-yellow and you're welcome to let us know if you have a preference in the box provided. Always popular, some colours can sell out quickly, and so it would be worth giving us 2 colour choices. We have regular deliveries of cymbidium and so do keep checking back if you'd prefer a different colour.

4.8

/ 5
31 reviews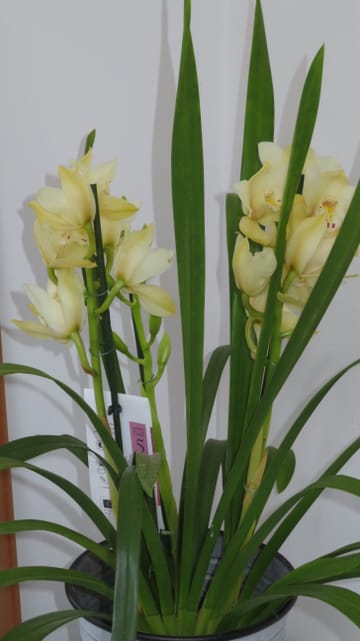 Lovely plant larger than expected but very healthy

quality plants, well packed & delivered on time- would recommend.

My daughter who received the Orchid - LOVES IT.

Really healthy beautiful Orchid. Well packaged and in perfect condition when received.




Just as described on the site.

Beautiful bloom, huge in size.

Looks beautiful in my he front hallway.

These instructions are sent with the plant gift
These exotic looking orchids are surprisingly easy to look after and will reward you with a flush of cheerful flowers for several weeks in a cool room.
These are plants of the forest - they like some light, but don't like to be scorched. A light spot in a cool room or north facing windowsill is ideal. They do also like some humidity and often do best in kitchens or bathrooms where the air is damper. If this is not possible you can always give the foliage a light mist every week or so.
How often you need to water will depend on the room conditions. Typically about a teacup a week, but make your own judgement, by feeling the weight of the pot. Try feeling the weight when dry and when well-watered and then try and keep it half-way in between. Water from the top and let the excess drain out through the lightweight compost. These orchids have aerial roots that were built to hang in the warm moist air of the swamp. Their roots should never be allowed to stand in water - if they can't breathe, the plant will die.
The most common problem with orchids is overwatering, so keep them quite dry and never allow the roots to sit in water. Once your orchid has finally finished blooming cut the flower stems right back and find a nice out of the way spot with an even temperature for them to rest. With a bit of luck they should reflower again within a few months.
Hot tip - try putting a damp rag or sponge underneath the pot and within the pot holder. This keeps the roots moist while letting them breathe.