Latest News and Press Releases from Plants4Presents
We love talking to the press and are always happy to help with any product or story enquiries.
We are a small family business but we can respond quickly and have a large catalogue of high res images on file or can arrange press samples if preferred. Please do get in touch with Emily on 01825 721162 during normal hours or by email out of hours.

9th September 2021
We're excited to team up with the awarding winning Bluebell vineyard to launch two delicious new gift sets in time for Christmas
We've paired our superb Sussex grown grapevines with award winning wine from our local vineyard and we're sure you'll love these gift sets as much as we do.
British vineyards have gone from strength to strength in recent years and as the climate and new grape varieties make successful harvests and fabulous wines a reality, it's a great time to try your hand at growing your own. All our vines are strong grafted vines grown at our Sussex nursery and are all varieties that will thrive in the UK climate.
Great gifts for wine lovers or for those who've reconnected with their garden this year, we've 2 fabulous new gift sets that are sure to go down a treat.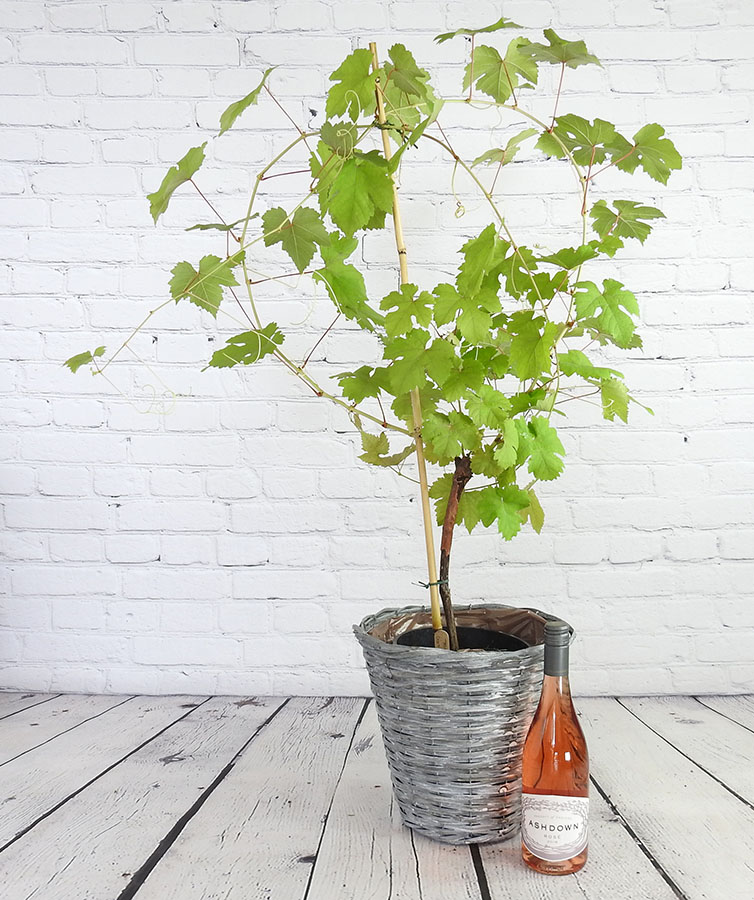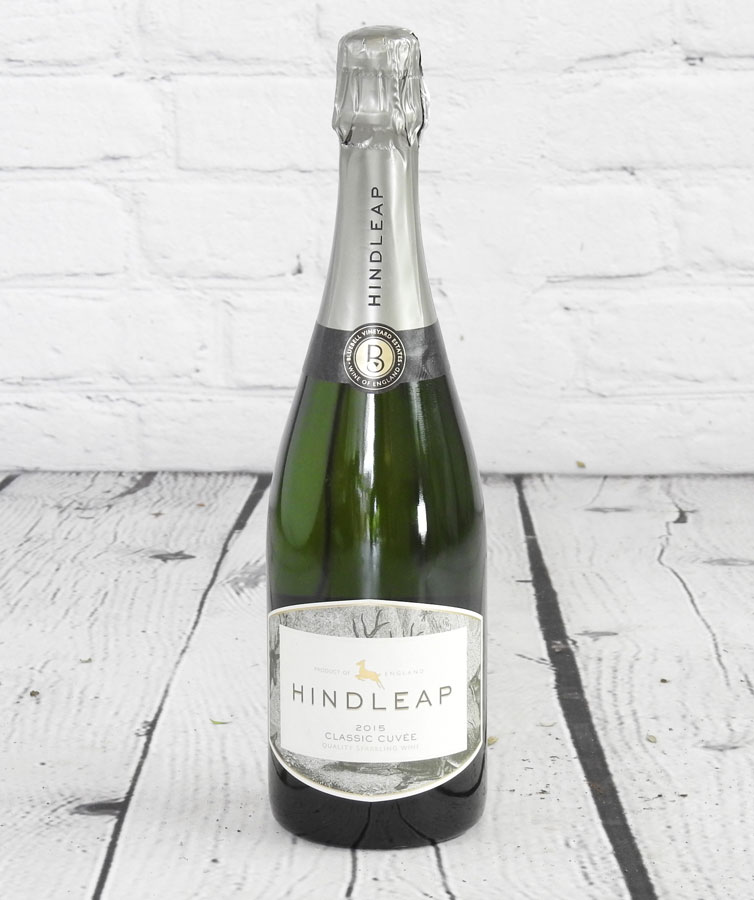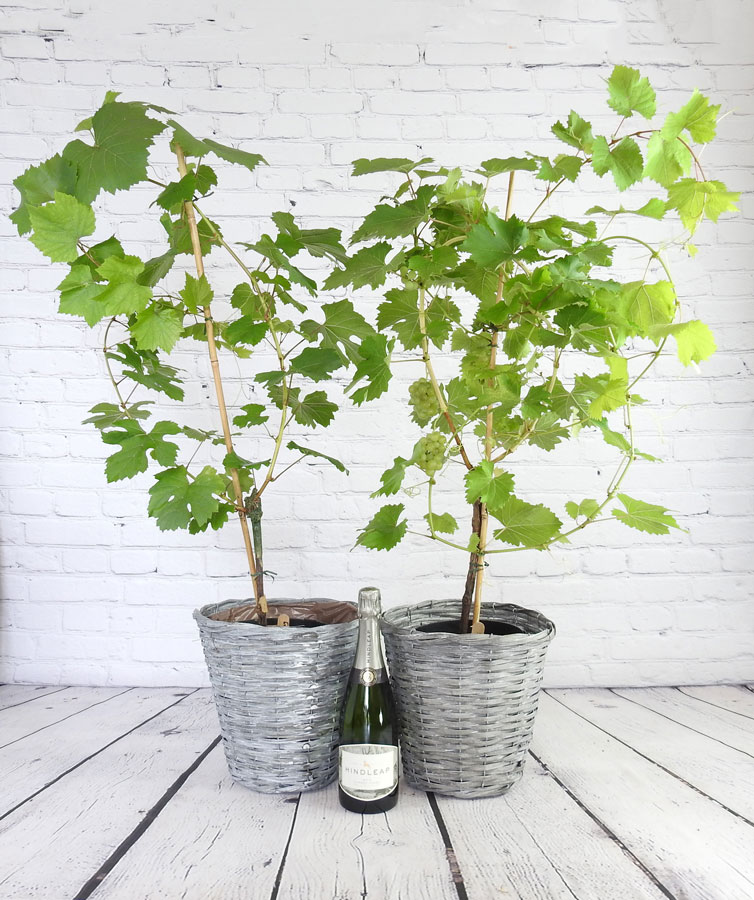 Sussex Vine and Wine; Award winning Hindleap Sparkling; Our premium Sparkling Vine and Wine Gift Set
Our Sussex Vine and Wine gift set includes a choice of hardy grape vines and a delicious bottle of either Bluebell Vineyard's Bacchus White Wine or their Ashdown Rose. If you'll looking to really push the boat out, then our Sussex Sparkling Vine and Wine gift set includes 2 fabulous grape vines, a white chardonnay and a red Rondo plus a really special bottle of Hindleap Sparkling Wine. Again grown and bottled just up the road from our Sussex nursery, this Classic Cuvee by the Bluebell vineyard has won multiple awards and teamed with two top quality vines makes a great gift for a big birthday, wedding or indeed for Christmas.
6th July 2021
Plant delivery service Plants4Presents thrives on renewed interest in Horticulture and online shopping.
The last 16 months have been a tricky and turbulent time for us all but we've felt privileged to still be able to send a bit of a cheer to loved ones up and down the country. We've seen a huge increase in demand, partly due to lockdown restrictions but also as people turn to their own gardens or gifting greenery to lift their own and their friends and families spirits.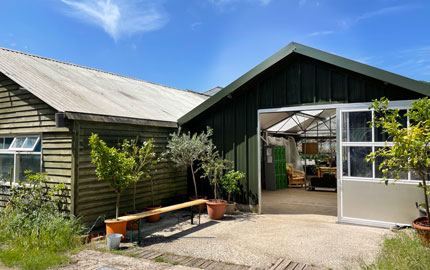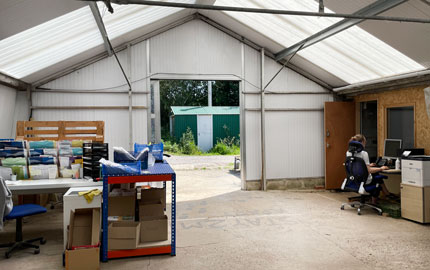 Despite challenging conditions and extra social distancing we responded quickly, investing in the nursery and recruiting and training new staff to help keep up with demand.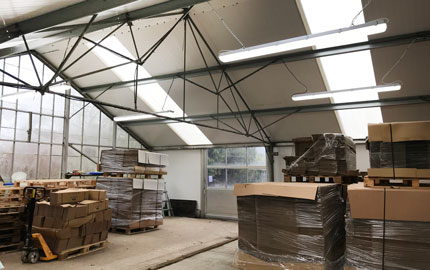 As we look back on the previous year it's incredible to find that we sent more than twice as many plants in 2020 compared to 2019, doubling our sales from 20,000 in 2019 to over 40,000 individual gifts to homes across the UK last year. Dramatic changes in buying patterns and outlets to market have put a huge strain on the horticultural industry but it's really good to see so many of the suppliers we work with able to adapt and expand and we're optimistic that a renewed interest in all things green will continue as we adjust to our 'new normal'.
28th January 2020
New Compostable Greeting Card envelopes
As a family we strongly believe in working with the natural environment rather than against it. As a business we are always looking for ways to reduce our impact on the environment and to recycle and reuse natural resources and this year we're delighted to introduce a new compostable greeting card envelope.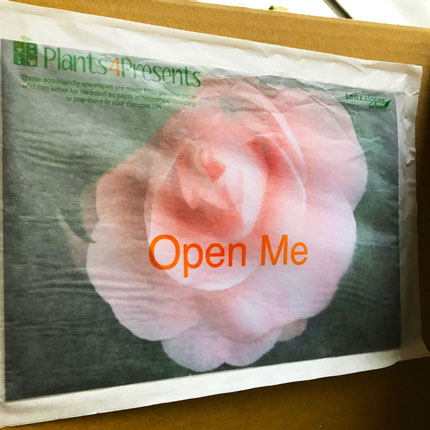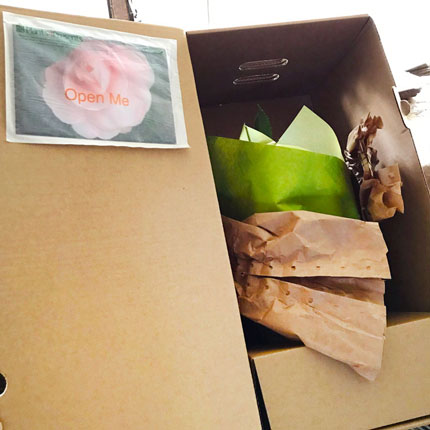 We're delighted that after many months of research and trials we've been able to swop out our biodegradable plastic document wallets for an even more environmentally friendly compostable paper solution. As our regular customers will know, at Plants4Presents we feel very strongly that we can help protect our environment and contribute to a better future. For us it's not just about about being seen to be environmentally friendly, we really want to find the best solution every time.
Which is why we are so excited to have been able to replace the 20,000 document wallets we use a year with a purely paper product that can either be composted at home or can be recycled in normal kerbside recycling.
There is a lot of depressing stories about the effect of climate change on our planet but sometimes it's worth remembering that we can all make a difference. As packaging materials and the demand for more environmentally sound solutions continues, manufacturers are starting to respond. When we first looked for a better solution 5 years ago the best option we could find was biodegradable wallets. These were clear, waterproof, durable and able to degrade into smaller pieces in landfill over a period of time. In partnership with Tenzalope envelopes however, we have now finally been able to develop a better solution and our new envelopes are still durable, waterproof and clear enough to do their job but importantly will compost naturally either in a normal compost bin at home or can be put in normal paper recycling and reused that way.
Pressure from consumers and from smaller companies like ours can make big changes and we hope by promoting these more ecofriendly solutions other companies will come on board. If your company uses document wallets and would like to know more about how to get hold of glassine paper alternatives then please do get in touch. We hope our niche solution will soon become the norm.
This latest innovation is part of our ongoing commitment to the environment. At our nursery in Sussex we have always taken steps to reduce our environmental footprint from installing rainwater harvesting to a biomass heating to simple solutions like thermal screens to reduce energy use.
We have always used recycled paper in the office for our care instructions and greeting cards, for any promotional material, leaflets and envelopes and our boxes are made from 80% recycled material. From the beginning we have chosen packaging that is based on recyclable paper and cardboard rather than plastics or cellophane and we are constantly looking at ways of improving our sustainability whether its switching to compostable bags instead of plastic in our boxes, to using pens made from recycled water bottles in the office. You can find out more about our environmental commitment here.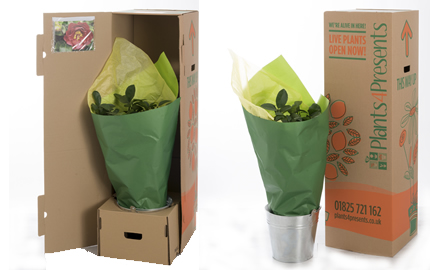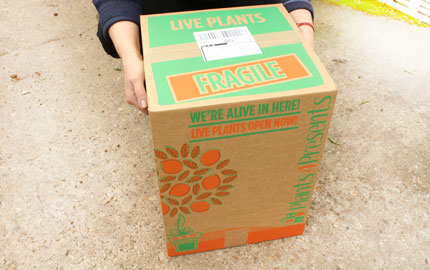 15th January 2019
Keep the Romance alive this Valentines' with stunning heart shaped orchids.
A great gift idea from Plants4Presents, these elegant orchids will look fab on a desk or table top and bloom for weeks and even years to come.
Plants4Presents specialise in gift plants. Each plant is carefully gift wrapped and boxed by hand at their Sussex nursery and includes a full size handwritten greeting card in every box - with plenty of space for you to get creative!
A great alternative to flowers for Valentines' these living hearts are available for £35 plus £6 tracked delivery.
Order by 4pm on Thursday 13th February to ensure your gift can be there in time for Valentine's Day.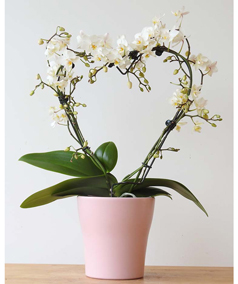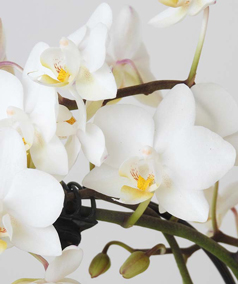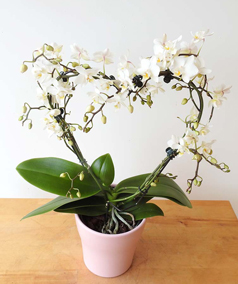 Plants4Presents launched in 2004, this family run business takes pride in their customer service and their innovative range of plants. Offering over 100 seasonal plant gifts each week, from romantic gifts for valentines, to flowering garden plants, citrus trees, herbs and unusual edibles.
Watch this space for more details of our 2019 Mother's Day selection coming soon.
9th June 2018
Wish dad a Hoppy Father's Day with these fab gift sets
Each gift set includes a strong English grown hops plant plus a Darkstar brewery tasting glass and a tasty bottle of 'Hophead' beer to enjoy whilst waiting for your first harvest.
A great gift for any Dad who likes their craft ale, hops plants are vigorous climbers and can be planted out against a wall or terrace where they will eventually produce a bushy crop of fragrant hops.
Plants4Presents specialise in gift plants. They carefully gift wrap and box all their plants by hand at their Sussex nursery and include a full size handwritten greeting card in every box.
A really thoughtful gift, which will bring please for months and years to come. Priced at £29 plus £6 delivery, order by 4pm on the 16th June to ensure delivery for Father's Day.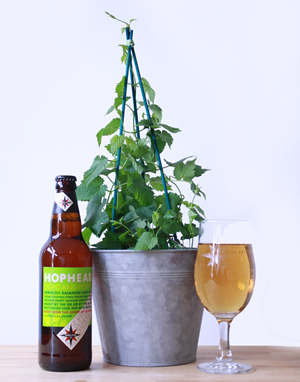 Grow Your Own Hops Gift set
For more information, high res images or press samples please contact Emily Rae on 01825 721162 or by email [email protected]
For more background information on the faces behind Plants4Presents see our About Us page.
24th February 2017
Grow Your Own Cocktails at Hampton Court Palace Flower Show
Plants4Presents are excited to be exhibiting a tasty new 'Grow your Own Cocktails' display for Hampton Court this year with help and guidance from Kate Gould, award winning garden designer and RHS mentor.
Their display will be one of several edible themed plots in the 'Cook & Grow Marquee' and will showcase a range of tasty and easy to grow cocktail ingredients. There will be top tips on the best fruit and herbs for smaller spaces plus an impressive range of different citrus varieties.
Colourful and fragrant fruit bushes including mandarins, kumquats, lemons, cape gooseberries, juniper and hibiscus flowers will be displayed against a modern apothecary style cocktail bar with copper and industrial styling.
Over the last 12 years, Plants4Presents have become established as citrus specialists and mother and daughter team, Isobel and Emily Rae will include some of their more unusual yuzu, finger lime and hybrid citrus varieties they are known for as well as cocktail herbs and edible flowers including hibiscus sabdariffa, stevia, borage, lemon verbena and malope.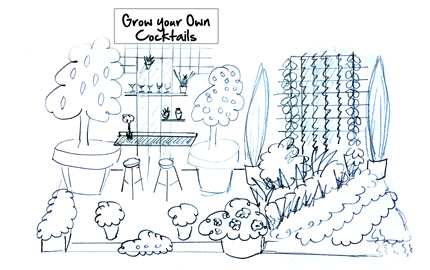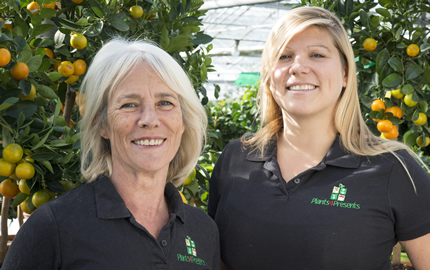 Draft outline of Plants4Presents 'GYO Cocktails' display; Isobel and Emily Rae
For more information, images of the build or to arrange a meeting and cocktail sampling on site on Press day please contact Emily Rae on 01825 721162 or by email [email protected]
For more background information on the faces behind Plants4Presents see our About Us page.