Rated 4.8 out of 5 stars

At around 7 years old, these are an even larger size of lemon4seasons to add to our lemon tree collection. They make a gorgeous gift for a special occasion and would be a dramatic focal point on a patio in the summer or a bright room during the winter months.
Current Description
New in for the festive season, our giant lemons are looking absolutely fantastic with a bushy head of foliage and 1 or 2 ripening green fruit. Really sturdy and nicely shaped plants, we think they will be very popular. With a stronger trunk than pictured , and not in bud we'll update the photos as soon as we can.
Good to know: We carefully prepare and wrap all of our plants so that they arrive safely. However, at this time of year when the lemons are getting larger and heavier, we just wanted to make you aware that they do very occasionally drop in transit.

4.8

/ 5
16 reviews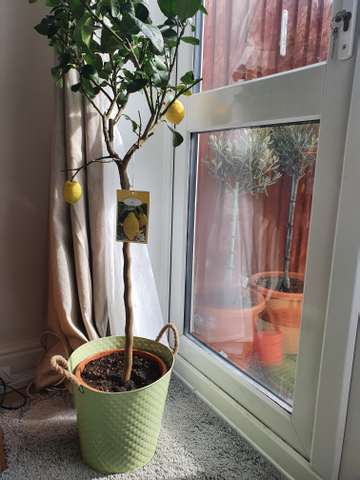 Really good quality product and excellent service

Fantastic quality and super value for money. Tree arrived complete with approximately 20 lemons at various stages of growth, very impressed. I would not hesitate to recommend this company.


Beautiful, healthy Lemon tree - complete with lemons! - well packaged. Perfect.

Lovely lemon tree! look forward to seeing it blossom


Beautiful tree - not as tall as expected but received in excellent condition over 16 lemons in bud and 1 full grown and nearly ready to pick!


No problems with ordering. Perfect product and deliver


These instructions are sent with the plant gift
This lemon tree is a variety called 'lemon4seasons' and has both tasty fruit and fragrant flowers – sometimes both at once. It can bring pleasure for years, with the right care.
Citrus trees need lots of light, a conservatory is ideal, but they will also be happy next a window in a cool, bright room, the more direct daylight they receive through the day the better. In the summer, your lemon tree will enjoy going outside on a patio in full sun or partial shade. However, these citrus trees are not full hardy and will need to come inside just before the first frosts. When indoors, try to keep your plant away from cold draughts and radiators and underfloor heating.
Because these plants are in a pot they will need regular watering. Once the top of the soil is bone dry, remove the plant from its outer container. Place the plant outside or in the sink, water the soil thoroughly from the top until excess water drains freely right through the pot and out of the bottom, always allow all the excess water to drain away from the plant before putting it back in its normal position. Sometimes if the soil is very compact this may take several watering's. In the winter you should expect to water thoroughly once every 7-14 days, but always let the top of the soil dry between watering. In the hottest summer months, you may need to water once a day, but never stand your plant in water. Don't worry if the soil feels dry between watering, but if the leaves start to droop or curl you know it is thirsty, so water straight away. From April until September, citrus trees will benefit from summer citrus feed once a week to encourage growth, in the winter you would need to swap to winter citrus feed to help with flower and fruit production, this is used from October until March once every two weeks.
Lemons grow quite slowly; if you need to, only repot in the spring, and only go up one pot size at a time. i.e.: If your tree is in a 5-litre pot, repot into a 6-litre pot. Ensure you use a plant container with holes in the bottom for good drainage. As a rule, lemon trees tend to produce flowers in late spring followed by small green fruits that can take 10 months or more to fully ripen and turn yellow. However, in this country many varieties don't follow a strict season and can fruit or flower at any point during the year.
Problem solving: Citrus trees are not the easiest of plants, but they are very rewarding. Look out for signs of trouble and try to treat problems early. The most common problem is leaves dropping due to over or under watering. If a few leaves drop a day this is over watering, but a lot of leaves at once is underwatering. A return to a regular and thorough watering routine should lead to recovery.
If new growth is very light in colour or has mottled markings your plant may be lacking trace elements. A good dose of citrus feed should soon green up the leaves. Our lemon trees are grown in a pesticide free environment. In the unlikely event that you find pests e.g. aphids these can be removed by hand or with a soap and water spray.
We found other products you might like!