Rated 5 out of 5 stars

These stunning larger planters are packed full of Sussex grown flowering plants suitable for indoors, and make a very special gift for a loved one, or just to treat yourself this Christmas! They make a gorgeous display for the Christmas table or windowsill and the blooms will last the whole festive season. We love these beautiful large red and gold planters, which will be generously filled with 2 festive primula and 4 other seasonal plants such as Cyclamen, Polka Dot Plant, Tête-à-tête, Variegated Ivy, Hyacinths and small Poinsettias plus a cute Merry Christmas tag as pictured.
Current Description
We do have just a few of these lovely red and gold planters available. You can order now for delivery straight away or choose your preferred delivery date on the order form.

5

/ 5
17 reviews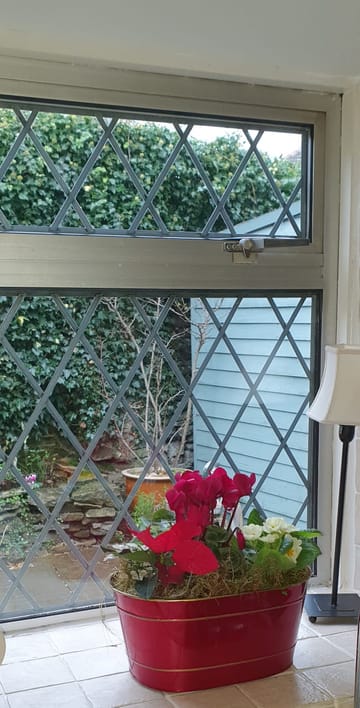 Beautiful plant pot with a very nice selection of plants

Very pretty and exactly as described.

Product looked attractive for a Christmas present.

Excellent service. Fantastic Christmas Flower boxes

The product, a planter with Christmas arrangement, was a present for my daughter and she loved it.

Beautiful gift……..always reliable and top quality planters delivered!

Excellent service and product.


it looked good and very colourful and would buy again


These instructions are sent with the plant gift
Looking after your Indoor Planter Your indoor planter is made up of plants that look good at this time of year– but not all the plants are hardy, so they are best inside rather than out in the frost and snow. Choose a cool windowsill, table, or porch and your planter will bring colour to the darkest days. It is best to keep your planter away from any radiators. Try to give your plants a good amount of natural light, next to a window is best, try to avoid putting them to far away from the window or in a dark corner.
The amount you need to water, will depend upon where you keep it. In a warm room you may need to water several times a week, but. In a porch you will need less. Try to keep the compost damp – not dry and not soggy.
If the leaves or flowers start to droop, water thoroughly immediately and they should soon recover.
It is a good idea to keep pinching out the flowers as they fade to encourage the young buds and to avoid mildew. Once all the flowering plants are over the foliage plants will continue to grow to fill the planter. If you like you can replace the flowering plants with fresh bedding plants in early summer to make a fresh seasonal display.