Rated 4.9 out of 5 stars

This is the sweet Orange tree (Citrus aurantium 'Sweet Orange Group') the true eating orange and produces really tasty oranges in the right conditions right here in the UK.
Current Description
The new delivery of orange trees have a neat head of foliage, and a ripening fruit. Not as bushy or tall as in the photos, we will update them soon. Good to know: Although we carefully wrap and pack all of our plants, it is quite natural for fruits to drop when they are large and heavy like this. If it's a green fruit, pop it on the windowsill to ripen, and it will still taste delicious.
60cm tall including the 5L pot

4.9

/ 5
119 reviews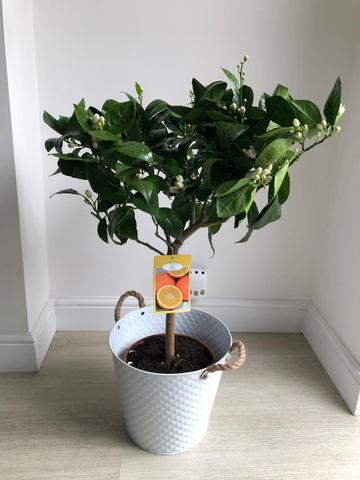 Beautiful, healthy, full of leaf & growing in a lovely, sturdy pot.

Plant arrived on the date stated, well packaged, so in perfect condition, with instructions on how to best look after the plant. This is the 2nd plant purchased from Plants4Presents, the previous being a lemon, which is still going strong after 18+ months having produced a lot of fruit, so we decided to add an orange to our collection. Would recommend 100%

This plant arrived on time for our wedding anniversary and delighted my husband. It's the 4th plant we have bought this year and they are all of excellent quality, well packaged and in great condition. They are proving delightful to grow as well! Thank you.

Great purchase. Was exactly as advertised on website.

Lovely tree. This tree was a gift to me. Only down side is that its like having a needy friend coming to live with you.

Gift, healthy, unusual, good value fruit developing

Gorgeous well cared for plant Smells fabulous when I'm bloom



Amazing quality! Over the moon.

These instructions are sent with the plant gift
This sweet orange tree (Citrus Sinensis) produces large orange fruit in the winter and fragrant white star shaped flowers in spring.
Orange trees although not native to this country do surprisingly well in the UK. A light room near a window or a conservatory is ideal in winter. In the heat of summer you can give your plant a holiday, put it outside on a sheltered patio and it will enjoy the fresh air. Bring it back inside when there is a nip in the evening air as your plant will start to suffer in temperatures below 5°C.
Water your tree thoroughly from the top when the top of the soil is bone dry. This might be once or twice a week in the winter and as often as every day in hot weather. Try to ensure that the water runs right through the pot and out of the holes in the bottom. The roots should not be left to stand in water so do let the extra water drain away. A citrus feed added to the water every couple of weeks can also help to maintain a healthy plant.
These are the same trees as those grown for commercial oranges and the fruits have sweet, juicy flesh. Leave them on the tree as long as possible to allow the fruit time to sweeten up and test whether they are ripe by gently lifting the bright orange fruit to see if they drop. Best eaten fresh from the tree.
Citrus are best kept in fairly small pots so is unlikely to need repotting again until next Spring. If you don't have citrus compost then a mixture of multipurpose compost, garden soil and bark chippings or sand will also produce a good free draining substitute and you should just pot up one pot size at a time.
Problem Solving:
Overwatering, underwatering and shock can all be a cause of leaf drop. One or two leaves is not something to worry about but more than 20 and your plant is not happy. However, in most cases, return to a regular watering routine and temperature will lead to recovery.
More Information
Orange Tree
Scientific Name:Citrus Sinensis
The true or "sweet orange" is Citrus Sinensis and there are many varieties including "Washington Navel" and "Valencia" amongst others
Sweet white blossom
Large sweet orange fruit
Oranges grow best in warm sub tropical conditions and require plenty of light to thrive. In the UK they do need protecting from cold temperatures and should be kept indoors in the winter months. However in a light room or on a summer patio they do surprisingly well.
http://ezinearticles.com/?History-Of-Citrus@amp;id=270715
The sweet orange is thought to have originated in china and to have been cultivated there for thousands of years. It was introduced to Europe in the 1400s and is now produced in huge quantites for fruit and juice in America and across Southern Europe and Turkey
We found other products you might like!