Available from 07/12/2023

Rated 4.7 out of 5 stars

Top quality British Grown Poinsettias are always very popular and are the perfect way to send a bit of festive cheer.
Current Description
Our strong poinsettias are grown just up the road from us in Sussex. These gorgeous festive plants are the mid-sized red poinsettia in our collection, and we are looking forward to having the first of them available from the beginning of Decmeber. Always very popular, you're welcome to order now and choose a Christmas delivery date on the order form. Prefer something a little different? You can also pre-order our popular
white
and
pink
poinsettias from our main Christmas page. We'll update this page as soon as they arrive.
Note: Poinsettias are sensitive to low temperatures and so we add extra packaging to protect them from the cold whilst in transit. However, we strongly recommend selecting a delivery date from Tuesday to Saturday so your beautiful poinsettia can be delivered to its warm home as quickly as possible to prevent damage in transit.
Approx. 55cm tall in a 2L pot

4.7

/ 5
19 reviews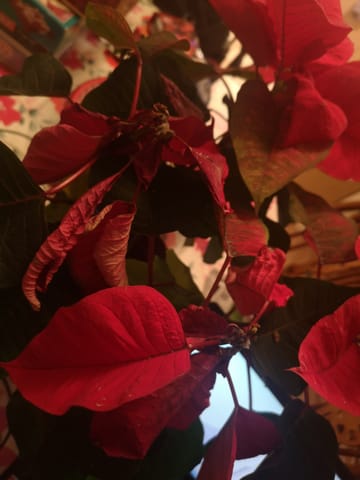 Really good but not the colour I originally wanted, but the replacement was really lovely. Photo not available as it is not in this house


My friend absolutely loves it. The plant arrived promptly and was well packed. Sorry don't have any photos to show you.

It was a lovely big red poinsettia as described and arrived promptly for christmas for my mother

Was exactly as I thought it would be, and better, and my wife absolutely loved it!

The plant arrived very well packaged and I am told it is stunning! The delivery driver did not knock at the door where my mother stood waiting for him, instead he just dumped the plant by the back gate!


Healthy robust plant. Well presented.


Both I and recipients very pleased with the plant.

These instructions are sent with the plant gift
Poinsettias originally come from Mexico but their rich coloured bracts and winter flowering make them a very popular festive plant in the UK.. Your Poinsettia will flower for many weeks if you follow a few basic rules.
These Sussex grown poinsettias are stronger plants than the imported plants you often see in shops but they are still quite tender and don't like being too hot or cold. Keep them away from the glass if next to a window, and away from a radiator.
Whilst the plant is in a small pot it will need regular watering. Water from the top and let the excess drain away, or stand the whole pot in water for 20mins. The top of the soil should seem only slightly damp when you touch it – not soggy.
Most people treat their poinsettias as annuals and throw them out after the festive season. However, with a little care your Poinsettia can flower again next year.
If you want to keep your plant going for next Christmas, after flowering, give the plant a rest. You can decrease the water and let the bracts drop. In summer repot into a larger pot. Make sure the soil mass is moistened and place in a sunny window, or in a conservatory. You will need to pinch out the growing shoots to encourage branching and feed and water regularly. If you can keep your plant looking healthy until next autumn, the leaves will start to colour up and it should provide you with a beautiful show again in time for next Christmas.
Problem Solving
The most common problem with poinsettias are caused by cold which will lead to shrivelling of the coloured leaves – they must always be kept above 10C. Poinsettia's are from a desert country so be careful not to overwater and if your plant does get a little too wet you will need to let the soil dry out before re-establishing the normal routine. If the leaves start to droop then it is likely it is thirsty and a quick drink will usually perk it back up.
PLEASE NOTE: Poinsettias are poisonous if ingested so please keep your plant away from pets and small children.