Rated 4.8 out of 5 stars

Cheese Plant Gifts Ready for Delivery
Also known as Monstera Delicosa the cheese plant was a really popular houseplant in the sixties and seventies and is currently experiencing a welcome revival. These easy to care for plants look good in any room and will tolerate the lower light levels common in open plan offices.
Current Description
A very easy-going house plant, these younger cheese plants are looking fantastic and leafy this week. It will add some welcome calming greenery wherever you decide to put it.

4.8

/ 5
38 reviews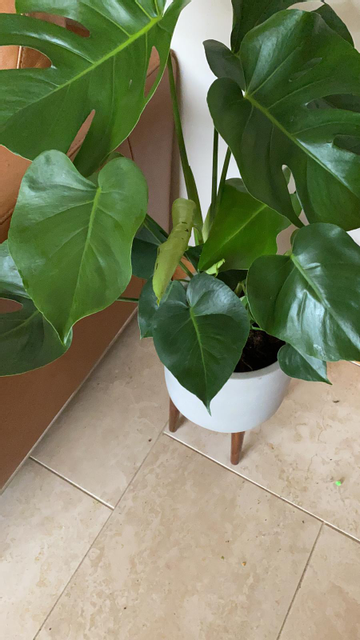 Superb large plant, very healthy, with lots of large leaves.

Plant is healthy and a good size


Excellent product & service ????


Very happy with my purchase, helpful that it comes in a pretty pot already

Lovely big cheese plant ordered as a gift

Really happy with the service. Plant was in excellent condition, came with a nice pot option and arrived on time.

A lovely plant that arrived on time and perfectly packed.

So pleased with this plant! It arrived so quickly and was very generous in size. The one that I ordered also had a leaf ready to open up within a few days of being delivered, so it was growing immediately. Definitely will continue to order from Plants4Presents in the future. :)

These instructions are sent with the plant gift
Also known as Monstera Delicosa these cheese plants are easy to care for and will look good in any room.
All plants need light, but this cheese plant will thrive even in quite low light – most rooms in the house will be suitable. It is happy at a normal room temperature, and if gets really hot in the summer you can mist it with ordinary tap water to cool it down.
In the spring and summer when the plant is growing it will need to be watered often, but in the winter when the plant is resting watering is not so important. You might like to feed it every month with ordinary houseplant food to help it grow and to keep the leaves nice and fresh.
As the plant grows it can be re-potted in a larger pot. Choose rich compost that will hold water well. In the right spot your cheese plant can get to 6 foot in a couple of years. To restrict growth, keep slightly cooler and darker and restrict the pot size.
Problem solving:
Brown tips to the leaves are the result of a dry atmosphere, try giving you plant a good misting and water more regularly, alternatively you can keep a bowl of water next to the plant to add humidity to the environment.
We found other products you might like!