A chance for you to buy from our great range of plants out on the road and to come behind the scenes at our Sussex nursery.
We've had a great season out on the road and our last show of the year will be the RHS Autumn show in London. If you are in the Victoria area, please do pop in and see us. We'll have lots of great deals on Citrus, and Emily will be a talk all about growing exotic herbs and spices.
The show launches with a late 'preview evening on Tuesday 24th October and runs 10am-5pm on Wednesday 25th and Thursday 26th.more
A few pictures from 2017 shows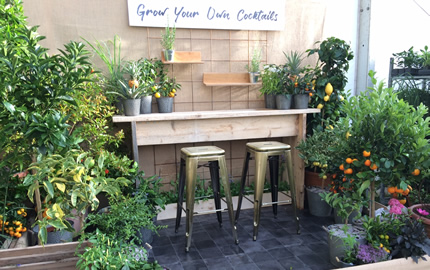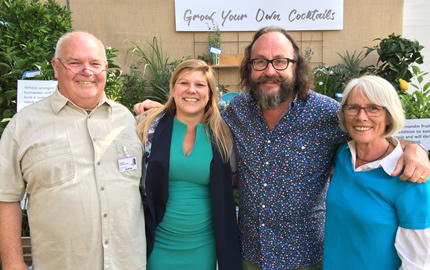 Our GYO cocktails stand at Hampton Court; we had great fun meeting and filming with Dave from the Hairy Bikers for Saturday Kitchen Live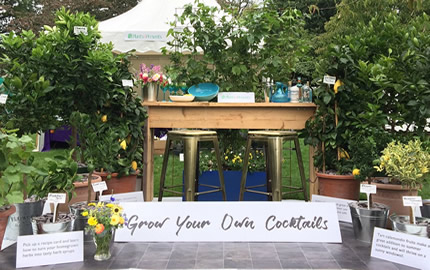 Even more cocktail fun to round off the season at RHS Wisley
Our 2017 shows - watch this space for more details about 2018 coming soon!
4th-5th March 'Sample' an exciting new urban fete in Greenwich Village
17th June Newick Food Festival
18th June 1-5pm Nursery Tours and Open Day
4th-9th July RHS Hampton Court Palace Flower Show
15th-16th July RHS 'on Tour' at Lambeth Festival
11th-13th August Chichester Chilli Festival
3rd September Sussex Prairies Unusual Plant Fair
5th-10th September RHS Wisley Flower Show
16th-17th September Fiery Foods Festival, Brighton
24th-26th October RHS Autumn Show in London
We'll be announcing our 2018 show dates in the new year but in the meantime please do let us know if you would like us to bring specific plants along to the RHS Autumn show for you to collect, or contact us by phone or email with any other queries and we'll do our best to help.